Core i7 920/940 overclocking guide
Related links:
How to Overclock C2Q-Quads-C2D-Duals
Written by
monkey7
Ever since the i7 was first mentioned the rumour machine about overclocking it has been spinning at full speed. The first rumour was that overclocking would be impossible because of the removal of the good old FSB, leaving the overclockers with nothing to increase. After the first rush of panic people started to actually think about what would replace the FSB: base clock (BCLK). Increasing this would increase the overall clock, right? Right. After the lifting of the NDA (and on some dubious sites before) the overclocking results were released. An average core i7 920 (2.66gHz, €300) turned out to be able to overclock nearly a full gHz.
But removal of the FSB and the introduction of the BCLK means a lot more chances. Everything is linked to the BCLK, which has confused quite a lot of the old school overclockers. Just to sort that out and set new overclockers on the right path, I've written this guide to core i7 920 overclocking.
First of all: neither me nor overclock3d is responsible for the damage you might do to your components following this guide.
Step 1: preparation
To overclock properly you should first inform yourself about the risks and advantages of overclocking. I will not be writing this all out, but this is the short version:
Risks:
- Shortened life of components when giving more volts than specified
- Extremely shortened life of components when giving an extreme voltage
- System instability
- You could contract the Megahurtz fever
Disadvantages:
- Additional heat output
Advantages:
- Higher FPS in CPU based games
- More F@H ppd
- Higher benchmark scores
Does overclocking really increase performance?
Yes it does. Just look at the CPU scores below (program used: 3DMark vantage advanced)
At stock:
This image has been resized. Click this bar to view the full image. The original image is sized 984x570.
At 3.7gHz:
This image has been resized. Click this bar to view the full image. The original image is sized 983x569.
With a difference of about 6000 points this would represent a considerable increase in CPU based gaming performance.
Having read this, you should start concentrating on the theory behind core i7 overclocking. The system is pretty easy: you have a base clock (BCLK), to which everything is linked using multipliers. This base clock can be adjusted from 100 to 250 in steps of 1. Stock is 133.
Multipliers
The following multipliers are available:
- CPU. With the 920 this is 12-20x
- QPI link (36, 48, slow). The QPI isn't really important for singlecpu systems, but keep it below 7-8gHz as most seem to be bugging out around that range.
- Memory (6, 8, 10, 12, 14, 16x). Well quite obvious. Make sure your ram is running as fast as possible but don't overdo it.
Voltages
When pushing hardware over its rated specifications it will most likely need more voltage to run properly. The following major voltages are available on the i7:
- vCore. This is the juice going through the actual core. Stock: 1.18 Max. safe: 1.35 Max. extreme: somewhere around 1.55
- VTT (asus names it different). This voltage is going through the memory multiplier which is now integrated into the processor unit. Stock: 1.1-1.2 Max. safe: 1.35 Max. extreme: somewhere around 1.55
- vDIMM is going through the memory. Stock: 1.5-1.65 Max safe: 1.65 Max extreme: 1.5*VTT or VTT+0.7
Energy savings
As all experienced clockers know, Intel has some features built into their CPU's that lets them use less power when idling. Overclockers however, are not interested in that power consumption at all and those features go at the cost of stability.
The following features are recommended to be turned off:
- C1E state
- SpeedStep
HyperThreading
Revived from the old P4 days is hyperThreading (HT). HT basically means that a core is pretending to be two cores. In the i7 series Intel decided to have the cpu act like an octo core while being quad. This feature could be very useful in truely multithreaded applications but seems to make the cpu require 0.05 additional vCore. As long as you are not an extreme clocker or single/dualthreaded applications (games) user I'd recommend keeping it on. Personally I have it turned off for my F@H SMP client.
To be continued
Core i7 920 overclocking guide - Overclock3D Forums
The Heart of Every Hardcore Gaming Rig is its Processor Build your own rig with desktop gaming processors from Intel.


Intel Desktop Board DX58SO
The ultimate choice for power users
This next-gen powerhouse is Intel's highest performing single-CPU desktop, providing unrivaled experiences on highly threaded games. Optimized for efficiency and speed, the DX58SO automatically gives you extra horsepower when you need it.
Learn more
Intel's Core i7 Extreme Edition 965 overclocked to 5.5GHz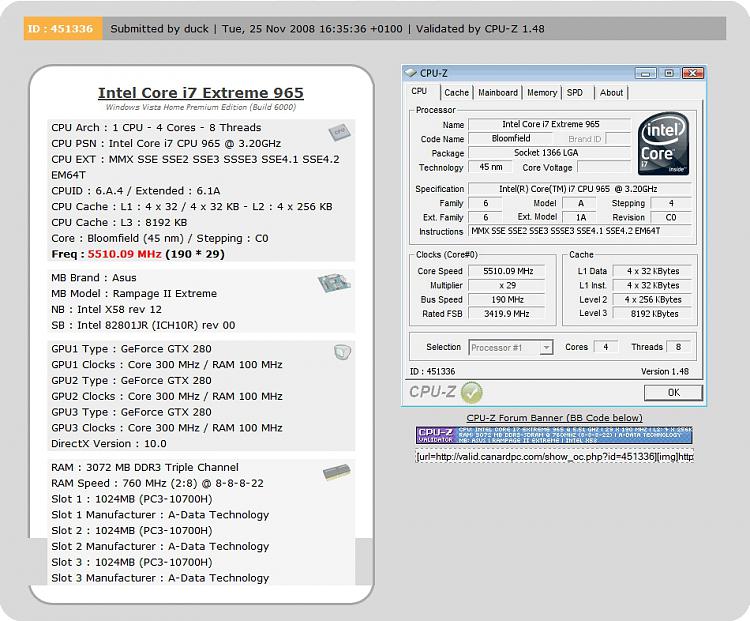 CPU-Z Validator 3.0
Intel's Core i7 Extreme Edition 965 overclocked to 5.5GHz