Hmmm...good thread, and good advice since Intel lists the max volts for an i7-930 as 1.375.
Anyways while reading this thread I ran across Lordbob's post about his high idle temps and thought I'd share my thoughts/experience with my i7-930's idle temps.
My setup is in an
Antec P182 case
, see system specs; my room temps are about 23 Celsius (75 Fahrenheit). I'm using a Noctua
NH-C12P SE14
for my CPU cooler; my CPU is running at 3.52gig on 1.125 volts. QPI/Vtt 1.2volts.
With that my idle temps ran mid to high 40's, and no matter what I tried... voltage tweaks,
replacing the Cooler
, reseating/reorienting the cooler several times, trying different thermo pastes, AS5,
Noctua's NT-H1 paste
, and now
Arctic Silver's MX-3
(which gives the lowest temps by 2 degrees) I still find myself in the mid 40's idle, low 70's load.
In the end I've come to the conclusion that these are good temps considering these factors.
Now a couple of notes…
The
NF-P14 fan
that comes with the cooler is a 140mm 3 pin fan so it should be running at a constant 1200RPM's +/-10 percent, however Speedfan, Everest, and my motherboard's (
GA-X58A-UD5
) BIOS all state the fan is running at 900ish without a load. What's more interesting is that I have "CPU Smart Fan Control" disabled my BIOS so the board should give full voltage to the fan headers.
However with this BIOS setting and the fact that the fan
isn't
variable, the fan's speed increases to the 1200 range as the CPU temps climb as seen in these images….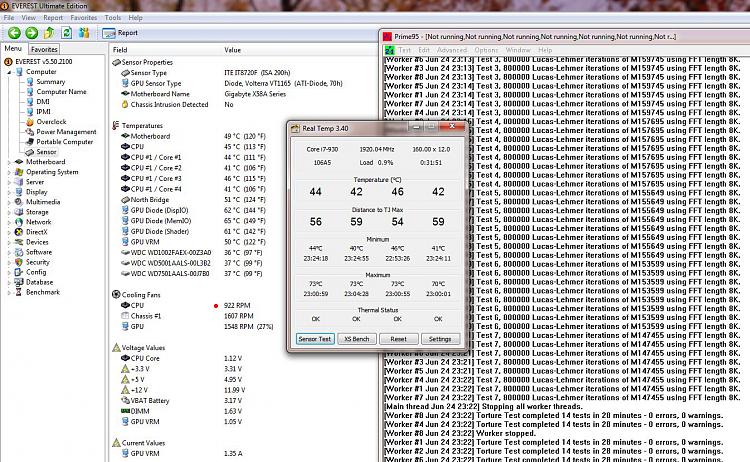 This image shows no load on processor, CPU fan running a 900+RPM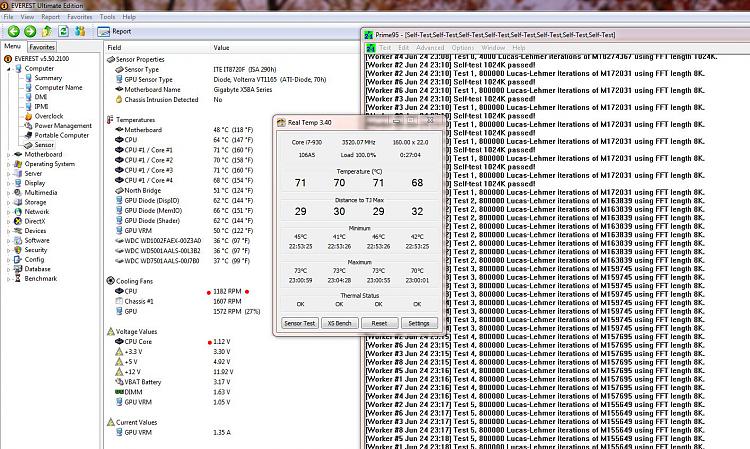 This image shows a load on the processor, CPU fan running high 1180's RPM
CPU-Z reading with prime 95 full load.
Hmmm… Apparently the board does vary it's voltage to the headers, even with the BIOS set to disable smart fan. Odd.
Core Temp and Real Temp show the same temp readings while Speedfan reads 15 degrees lower under idle and load speeds...
At any rate the bottom line is that I have a quiet system with good temps.
Thoughts/Opinions???