Well for the second time Iíve come off of my usual name brand company items. First I left Intel to go with Gigabyteís X58A-UD5 motherboard, now Iíve left Antec to go with Cooler Mastersí
HAF X
PC Case.
Quick story, Iíve been using Antec cases since 2000 and recently grew tired of my
P182
since the case temps were getting out of hand. At any rate I was going to get the
Antec P193
but was put off by its styling, and then I saw the HAF XÖ I was sold!
This is one HUGE rock solid case nice looking case; and I canít stress this enoughÖ. This case is ridiculously quiet as is; thatís with the stock 4 fans running at full speed. The 4 fans areÖ.
1 Front bottom 230mm 700RPM 19dBA (Red LED), 1 Top 200mm 7000RPM 19dBA, 1 Rear 140mm 1200RPM 19dBA, 1 Side 200mm 700RPM 19dBA. Thereís also a spot at the top of the case for another 200mm fan if needed.
Add to this my 860-1200RPM
Noctua CPU Cooler fan
, my ATI 4890ís fan running at 27 percent idle, and ultra quiet power supply, this makes for one quiet system.
Iíve heard people say they wish they could turn off the LED of the front fan on the Cooler Master HAF 932, well Cooler Master provides an on/off button for the HAF X at the top of the case, just above the reset button, left of the Power On button. Cool.
In addition to the standard portsÖ USB 2.0, FireWire, e-SATA, thereís also two USB 3.0 ports. However the current method of connecting the 3.0 ports to the mother board is to route the included USB 3.0 cables out the back of the case through one of the water cooling holes (Cooler Master provides 3 instead of two for this very reason) and connecting them directly to the 3.0 ports on the back panel.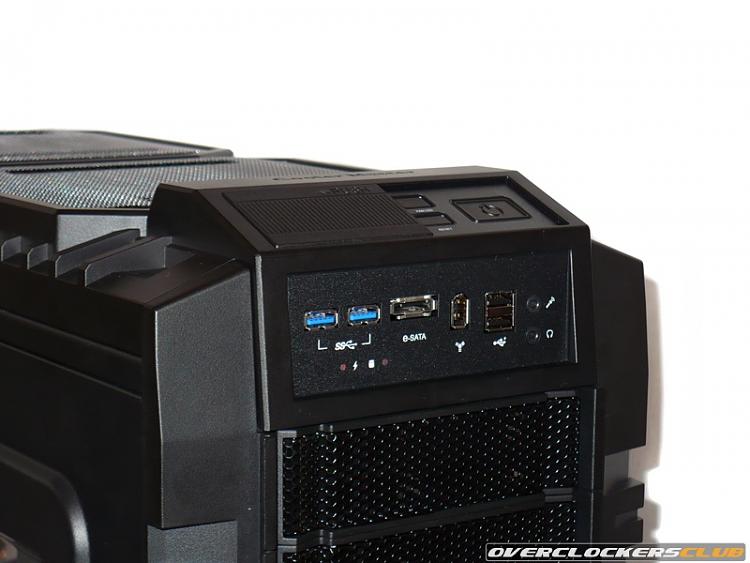 If you have no need for the 3.0 ports you can convert them to 2.0 by replacing the 3.0 cables with the 2.0 supplied adapter cable and connect it directly to the motherboard like a standard 2.0 connector.
And speaking of supplied cables, you also get a 6 inch 8-pin extension cable for the ATX 12V power connector, should the power supplyís cable fall short. They didnít miss a beat here!
Another thing thatís nice about this case is the fact that it comes with two hot-swappable bays with the connections interface built into the slots. Just hook up your Molex connector and SATA cables to the PCB board, add a drive to the drive tray and slide it into a slotÖ wholla! Youíre connected!
I did find a quirk though Iím not sure if itís my board or what, but when I connected two hot swap drives, one canceled out the other out. In short, when I had hot swap A installed, then installed hot swap B, A disappeared; When I removed B, A reappeared. HmmmÖ. Some more research is in order here.
The cable management on this case is a dream; thereís plenty of room on the other side of the case for wire management, and in fact the side panel is bulged to give extra room for cables. Thereís also plenty of tie down spots to hold cables. The case even comes with a cover to hide the cables coming out the back of power supply. Well played Cooler Master! Here's my cable management...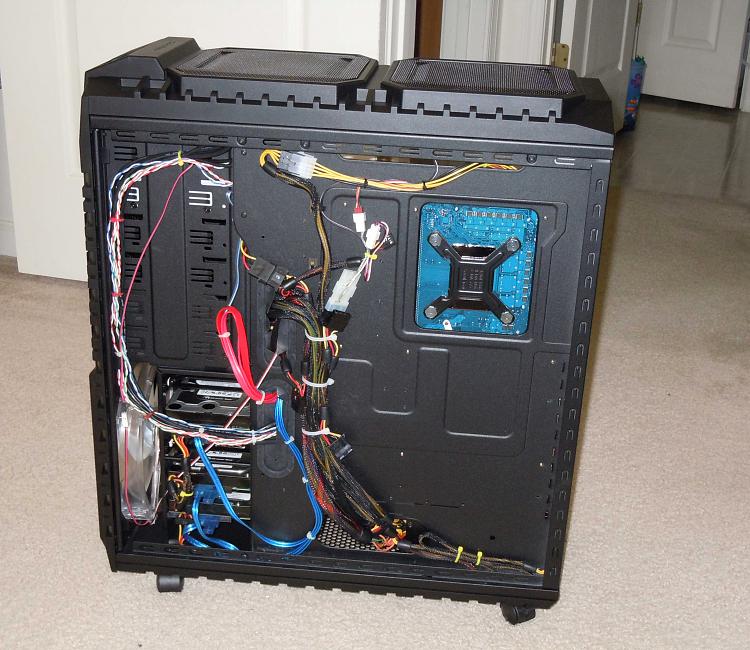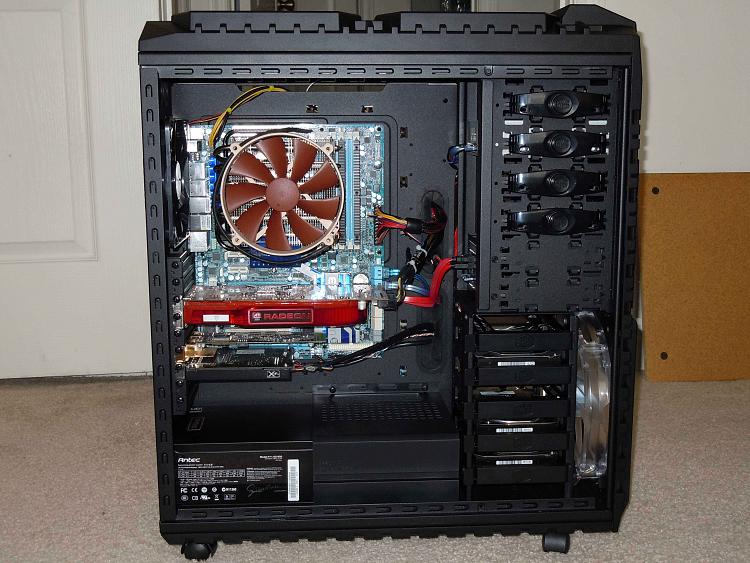 Please note the dimensions on the box are backwards. They state that the (H) height is 21.7 inches, and the (D) depth is 23.2. Itís actually the other way around, the height is 23.2 inches and the depth is 21.7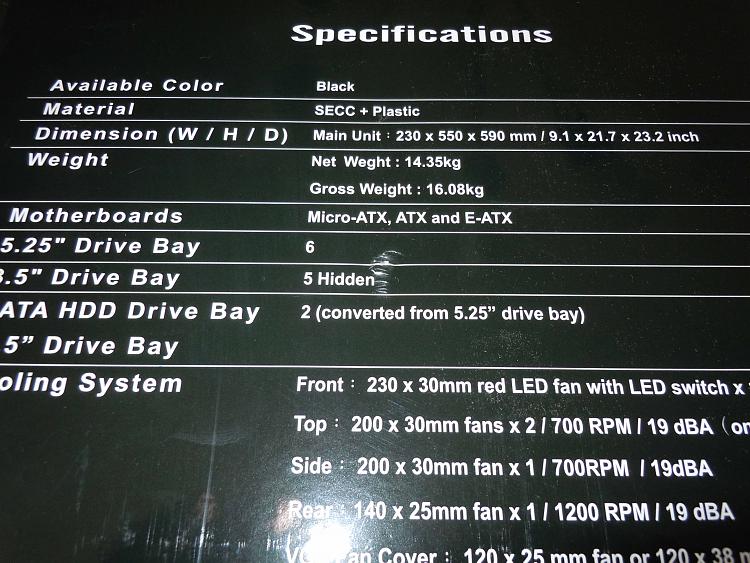 This mistake kind of messed me and I subsequently had to remove a support shelf from my computer desk. Ironically it was the height concern that made me pass on the Corsair 700D.
At any rate since I had to remove the shelf that meant installing the wheels that came with the case as I clearly didnít want it sitting on my carpeted floor. Adding the wheels raises the case about an inch and a half off the floor. However unlike the rest of the case, top, front, side, the bottom vents do not have dust screens. SoÖ.
To those familiar with the
HAF 932
, this improves upon (added dust screens) and adds (Hot Swap bays) to its success. This is an enthusiastís case thatís ready to accommodate any setup out there to date, including very tall CPU heat sinks, extra large motherboards, and multiple double slotted long GPU setups.
At this point in time I have no complaints as it more than suits my needs. I wanted something to help control my temps while keeping silent about it; this case does me just fine in both areas.
With its improved air flow over my Antec P182 my overall temps have been lowered by 3 degrees while being far quieter. Here's my system.... Iím quite pleased :)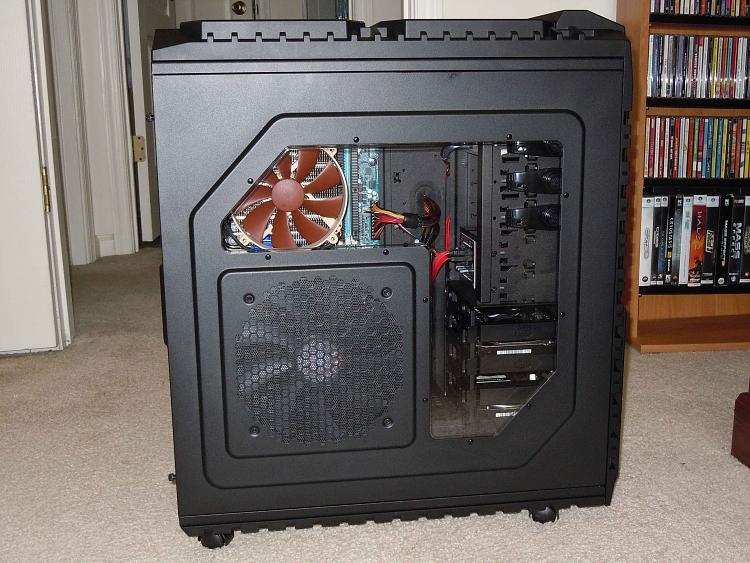 BTW for those considering
Corsairís 800D
, do yourself a favor and at least look at this case! And itís price :)
ReviewÖ
Cooler Master HAF-X review
Peace.