Although RAM can be an important factor for certain applications, I think that the average user is still well served with 4GBs (even 3GBs for a 32bit OS). I have both (4GB for 64bit and 3GB for 32bit) and I hardly ever notice a page fault. That leads me to believe that there is enough RAM for what I am doing (which is bread and butter stuff). Even during heavy video editing which keeps all my 4 cores running at about 75%, there are no page faults.
While the following concerns very few users it's an interesting side note as to how memory is being used in the music recording/sequencing world these days.
Over the past decade there's been a development called "virtual instruments", these range from software recreations of Classic synthesizers to full sampled orchestras and grand pianos. Multi-sampling takes each note of a grand piano and samples it played at different velocities, that's each note on a grand piano...each multi-sampled note averages 30 or 35MB, to get maximum real time response the whole instrument is loaded into RAM. Full orchestra sampled instruments can be loaded individually. I have one of the older sampled orchestra libraries and it's folder reads 14.2GB. I can load any part of the orchestra needed.
Anyway... If you have a 32-bit system with 12GB memory... each virtual instrument can load into it's own 3GB memory space, the instruments are played from the main recording program by virtual MIDI ports. The recording program, (Cubase, Sonar, Pro Tools...etc) resides along with the OS in the base 3GB memory.
Virtual instruments are being ported to 64-bit and and will soon be able to run within the recording program and not need the virtual MIDI ports.
In the near future 32GB memory will be standard on machines being used for studio use.
Here's some virtual instruments.
Native Instruments Classic recreation of the Prophet 5 synth.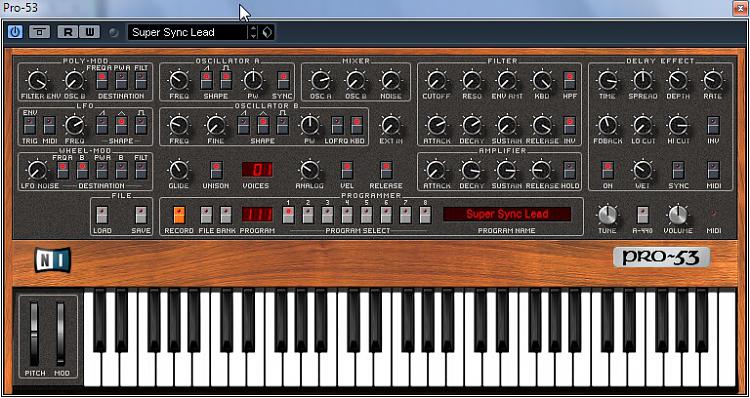 Addictive Drums, full studio set with adjustable mics, 24-bit samples.
Native Instruments Kontakt, a virtual instruments rack.
It has three instruments from the East-West Gold symphonic library loaded.
Ap