I have two systems with different SSD drives; the performance of both systems with Win7 64-bit is just fine, there are no issues.
Just out of curiosity, I compared the AS SSD historical benchmarks performance to see, if there's any substantial performance degradation between the time frames the benchmarks were done. The Crucial C300 seems to hold its performance pretty well: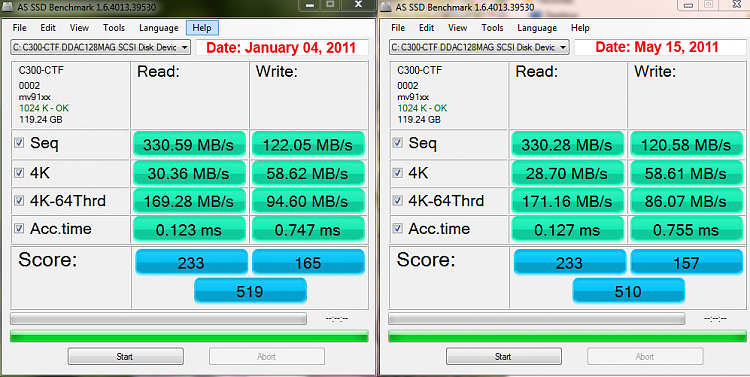 That isn't bad after about five month without TRIM, relying on GC. The OCZ Vertex 3 on the other hand seems to be loosing its edge after less than a month:
That's a substantial performance degradation, especially for write performance and that's despite the fact that TRIM is enabled. Since TRIM does not seems to be able to maintain the performance of Vertex 3, is there a way to regain the lost performance? Thanks...
Here are some of the differences between the systems....
The system with the OCZ SSD is based on the Asus P8P67 L-E board, the CPU is i5-2500K, and runs Windows 7 SP1. The system with the Crucial SSD does not have SP1, the board is Asus P7P57 Pro with the Marvell chipset for the C300, and the CPU is Core i5.