Over a period of time, the many applications that are installed and run leave a number of temporary files in the user's temporary folder. These can also be AutoBackup files, log files, files in mid-creation etc., and unless checked and deleted these may occupy a large chunk of valuable disk space.
Does deleting all these temporary files really speed up your PC? Have a look at an interesting discussion
here
.
Whether or not it speeds up your PC, there is no denying that you will be recovering a lot of valuable real estate. This becomes more relevant if one is using an SSD with limited space.
Windows Disk Cleanup does not touch the temp folder in the user directory. CCleaner with its default settings also does not touch it unless you specifically include it under the custom folder to clean.
In this presentation the fairly easy manual cleaning as well as setting up the CCleaner for automatic deletion will be dealt with.
Manual Cleaning:
In the Windows
Start Menu
type
run
in the
Search programs and files
field and press
ENTER
. ( You can also use
winlogo+r
keys to bring up the
run dialog box
.)
In the resulting
run dialog box
type
%temp%
and press
ENTER.
This will open up the
C > Users > Username > AppData > Local > Temp
folder where you can see all the files.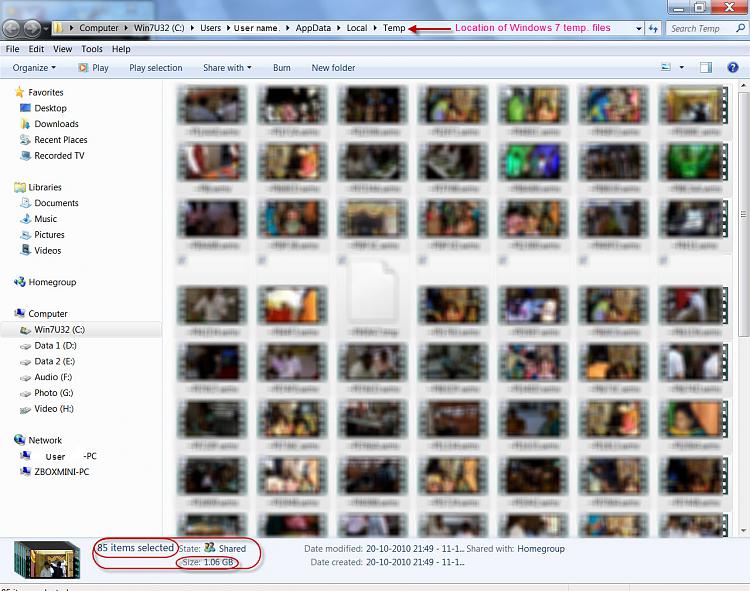 Press
Ctrl+a
( or
Organise > Select all or Edit > Select all
) to select all files, right click and delete all the files. (or press the
Delete
key.)
( I was just playing around with Windows Live Movie Maker, loading it with 76 HD camcorder movie clips but aborted it midway and as you can see the temp folder had nearly devoured 1GB of disk space)
There may be a few files in use and if so leave them alone and skip.
After the clean up I only had two files (in use) with 11.4KB.
Do not forget to empty the Recycle Bin.
Setting up the CCleaner:
Before setting up the CCleaner to include the temp folder as the Custom Folder to be cleaned, one has to unhide the hidden folders.
Control Panel > Folder Options > View >
activate the
Show hidden files,folders,and drives radio button > Apply > OK.
Refresh your computer if need be.
Open up the CCleaner, check
Custom Files and Folders
under
Advanced
and click on
Options.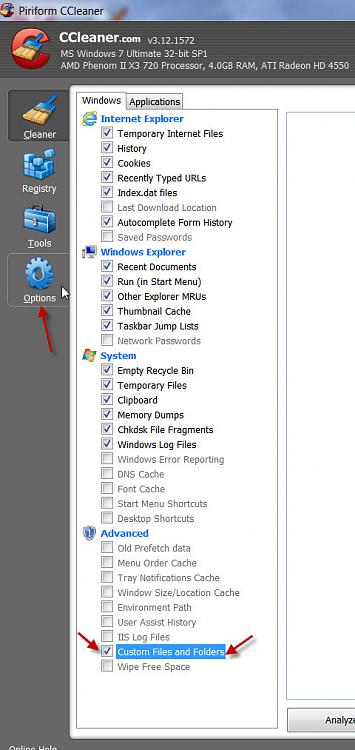 Click on
Include > Add > Browse
to the temp folder
> OK >
select to
Include files and subfolders
in the
Options
field
> OK

You can now run CCleaner and it will automatically delete all the temp files in the user folder.
Keep your PC clean.:)