I recently upgraded to an SSD. I moved windows 7 over to the new SSD and re-aligned the partition properly
The drive setup is as follows:
2x 500GB WD Black drives in RAID 0
1x 120GB ADATA S510 SSD
In BIOS, RAID mode is enabled. You cannot enable RAID for one pair of drives and AHCI separately. I was assuming disks that are not part of the logical RAID volumes would be set to AHCI automatically. I have enabled NCQ in AMD RaidExpert for the SSD.
WEI is 5.9 for the primary disk. The primary disk is the SSD.
Other strange behanivour is that the RAID array and the SSD both appear as SCSI devices in device manager, and Windows won't accept the ahci drivers from ECS.
Below is the benchmark showing poor performance.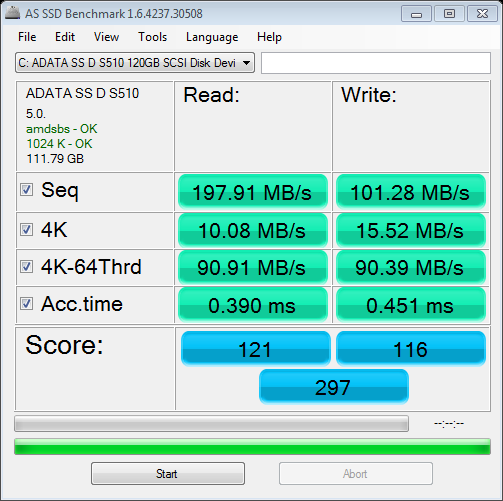 Ideas?? Many thanks.