It's a safer way for members to see. We don't have to off site and risk the chance of catching something. Those that arn't members are welcome to join the Forum.

You are using all your ram with all those Chrome apps open.
I don't see anything wrong you are just using it all.
No - Chrome is not the issue. The issue is:
- I have 8GB RAM total
-- when Wildstar is closed, I am using ~40% RAM, which is 3.2GB
-- when Wildstar is running, I am using ~95-98% RAM, which means that Wildstar is responsible for ~56% RAM usage.
-- 56% RAM usage is almost 4.5GB.
-- Wildstar only reports a usage of ~2.2GB in the task/resource-manager.
This means that Wildstar is using pretty much double the RAM percentage wise as opposed to what it shows number wise (2.2GB).
My question is how can I debug where that other ~2.2G is going, since it seemingly doesn't show up in the resource monitor/RamMap.
EDIT: I have done another test that should make the issue more obvious.
Shown below is the start of the test, with my current memory usage of 38% - or 3.04GB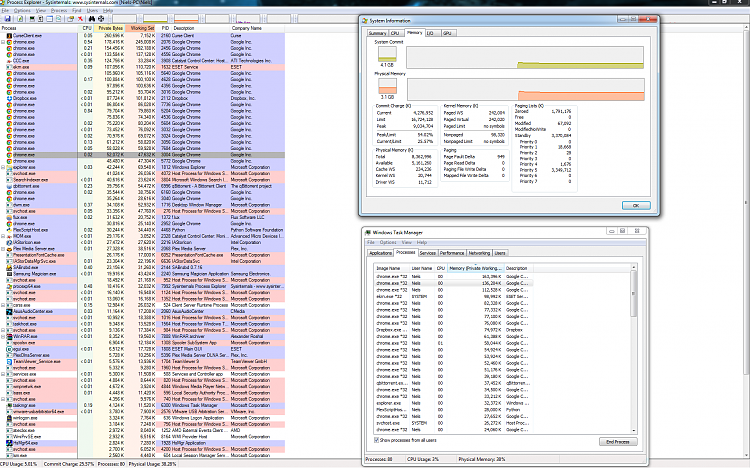 Here I just started Wildstar, just after loading everything the working set is shown as 2.3GB, or 28% of 8GB. This should put my total usage to 66%, however it displays as 73%. Already slightly off, but still within the margin: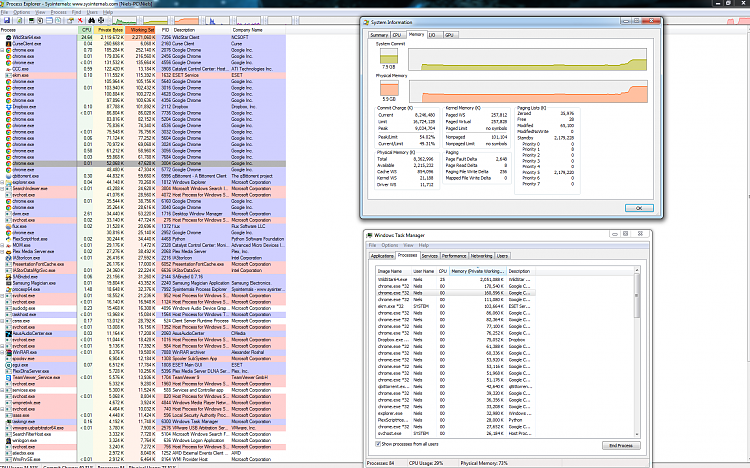 Here I have been running the program for about 20 minutes. As you can see, the working set is 3.05GB, so with our base of 3.04GB that should put us at 6.09GB total usage, which is 76% of 8GB. Yet the process explorer shows it as 96%, which leaves 20%, or 1.6GB unaccounted for. What is it allocated to? Why doesn't it show up in the process meter?