Hi,
I don't use any paid for Ramdisk solution. Here's what I currently use (free):
SoftPerfect RAM Disk : high-performance RAM Disk for Windows
Manual:
SoftPerfect RAM Disk - Online user manual, Introduction
- see "Getting started" section for options on wiping or making persistent.
Previously I created my own Ramdisks using the
imdisk
driver and the instructions here:
Using ImDisk to set up RAM disk(s) in Windows with no limit on disk size
Be warned that the tutorial on Guru3D does leave out some important steps. A reboot is required once the Ramdisk has been set up then it needs to be formatted.
Performance: I didn't see any real performance gains when moving browser caches to Ramdisk. I do see real gains when opening files or performing data intensive tasks. These gains were not seen until
prefetch
EDIT: (meant to say superfetch) was disabled as essentially a Ramdisk does the same job as prefetch but anything up to 50 times faster.
Personal preference: I use a 1GB Ramdisk with 4Gb installed RAM. That means that 1GB of system RAM is always allocated for Ramdisk usage. Usage has never got anywhere near that 1Gb maximum so if you are only interested in performance then I wouldn't bother with anything larger.
As for installing applications - it's best to install them on Windows and move temp files like this:
I only run portable apps directly from Ramdisk. Currently a media player, PrivaZer (privacy cleaning app), and Runscanner (Startup & Hijack Analyzer). They run much faster form a Ramdisk. Here's a screenshot of mine: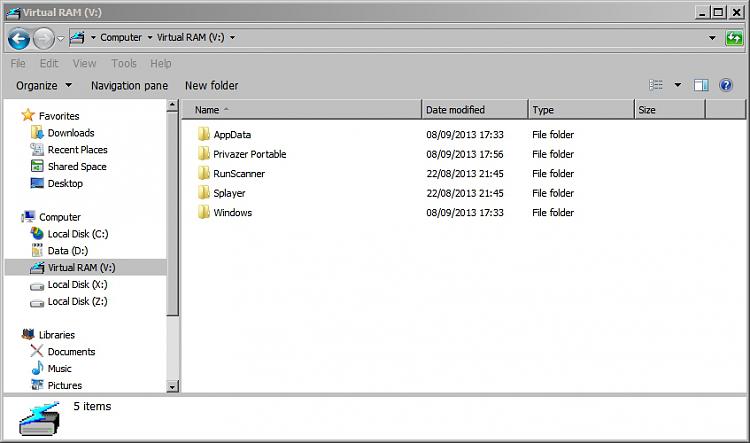 Messing about with Ramdisks left me with a non-booting machine the first few times I attempted to set one up. It was a learning process. Suggest making a system image backup before going ahead so that you can get things back to the way they were in the event of problems.