Sounds like you've got other problems that I don't know much about. Are you saying that you still see high svchost usage? I don't know how you ran those fixes so fast including the reboots!
There's another option that I use to reset Windows Updates and clear Windows Updates history and temp files. It requires a reboot afterwards. You can try it if you like. Here's the details.
Download and install
UVK
installer.exe
Run the program by right clicking the desktop icon and choosing "Run as administrator"
Click the system repair button and scroll to the windows update fix and run it.
Any problems and it's possible to go through the whole process of fixing windows updates again.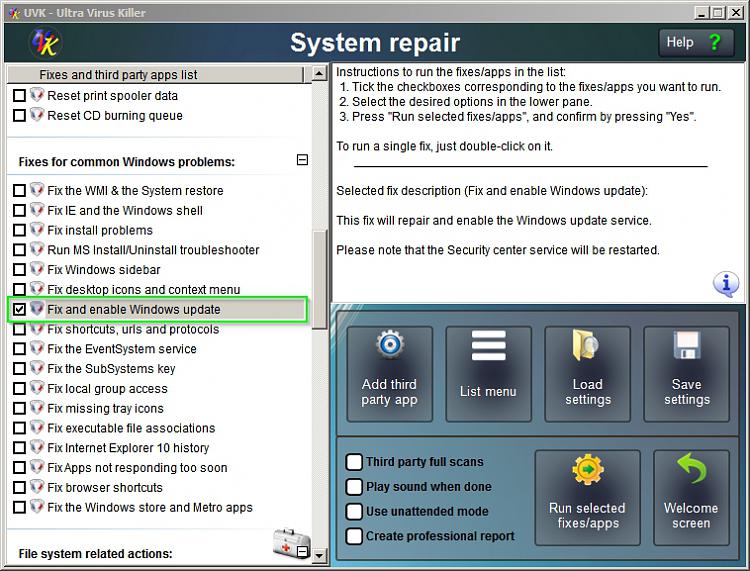 Note: I wouldn't mess about with the other UVK fixes unless you know that you've got the specific problem that they fix. It's safe to run the built in third party malware scans though.
Edit 2:
Note: Should add do not run Rogue Killer
Edit: After running the UVK Windows Update fix you again need to reconfigure Windows Updates via Start Menu > Program List > Windows Update and still need to run a check for updates once configured.
If you still get problems - as a temporary workaround you can try
Start > Run then type services.msc
Press Enter.
Stop Windows Update Service
Stop BITS
If Windows Update Service won't stop - restart Bits and try again. Then stop BITS.
Note: That's not a fix but it enables you to use your machine in the meantime.