Yes, of course,
Layback Bear
! I will gladly do my best to comply with any reasonable request made by any of my helpful friends here at SF!
The explanation for my nagging text-size problem is deeply rooted in just plain old
bad habits
! It goes something like this: I
usually
start to type my replies using the SF editor(s) in the associated text-area, and then at some point, since I'm absolutely
terrible
at spelling,
esp
. when I'm trying to write quickly from my internal thoughts, I copy the text to MSWord or a similar knock-off to run a spell-check. Then I C/P it all back to the online editor text-area and quickly preview it and hen post it. (The built in spell option has a tendency to cause what I will call "crazy-talk" where it really messes with the text to say the least lately for me anyway!) Anyway, doing it this way I find that it adds a set of [.FONT=Times New Roman][./FONT] (minus the periods of course) that encapsulate every line of text separately. TimesNR is not an available font in the font's window, and thus it reads as an empty/null font name and size when I click on it. It becomes problematic when I try to adjust this (smaller text) from the advanced online reply editor area though. For example, if I set the (empty) text size to four point it places [.SIZE=3][./SIZE] around every line of text AND often breaks quotes up because of where the BB-Code is placed relative to the quote tags, etc. The same goes for "fixing" the font by changing it to, say, "Verdana". It also makes further editing really more difficult because of similar nestled-BB code w/in other BB code..."it starts getting rather deep, as I find myself in brackets up to my knees!"
I realize that I should be either starting off by typing my answer in Word using the proper font and size to alleviate the problem before it gains any momentum like that, but I just keep forgetting in my haste (even though it probably doesn't qualify as "Hasty" by most anyone else's standards! I realize I'm just not a very good typist in the
speed department
either!) Still, you are absolutely right, ease of legibility is as important as spelling, actually more important in most cases, and it's all caused by a
bad habit
that I could, should and WILL be correcting now that you've drawn my attention to it! Thank you, Layback Bear, for pointing it out, I'll truly make
every effort
to discontinue this poor habit that I've developed with this font/size issue, fair enough?!
By the way, I think the numerical sizes available here at SF using the advanced options drop-down selection-box, which includes only two (2) through five (5), must be related to something like HTML "+" or relative size values possibly? I'm not quite sure, but this post should be equivalent to "Verdana, 12-point" which is what I changed it all to using MSWord, just prior to C/P-ing it back and it looks like it's right in the "preview post" portion of my browser window anyway. If it ends up looking correct, then I'll know for future reference...
Thanks again for making the suggestion as I'm sure it IS rather
annoying
for people to constantly read tiny-big-tiny-big-tiny...squinting and everything!

((ACTUALLY...SCRATCH THAT!!...

...UPDATE!!!)): This way sucks even worse (on my end for sure)! Look at what I'm trying to fix a few subtle errors in! It's like it's going tag-crazy by trying set the font or size after-the-fact and put them everywhere when were almost none before I tried to fix the problem!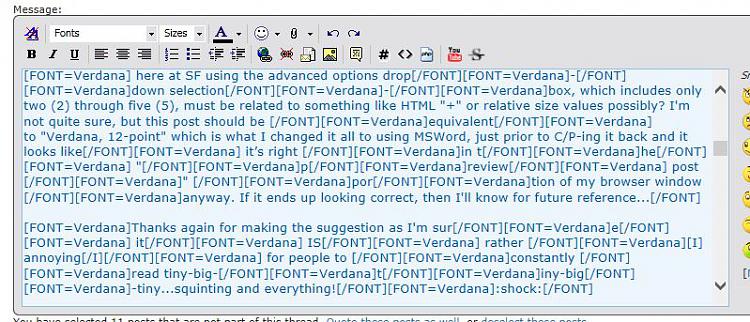 I realize I can use "replace" and so forth, but that shouldn't have to be something that I'm having to hassle with for most of my posts! And you can see where it messes up the quotations like in the second quote that's coming-up next from Layback Bear and similar "encapsulated" BB-code tags (like I had to fix the [.CODE][./CODE] at the bottom of the page, which was just part of a joke anyway; but, because a pair of [.FONT] tags started before the first [.CODE] and the "ended" or "closed" before the [./CODE] was encountered, it closed the code and reopened it by inserting a new pair around the closed one in reverse order.... It's clearly, really hard to explain, but it's just a major hassle I can't deal with, or only partially for now! I wish the stupid inline spell check software wasn't about equally as bad in it's final product! I've tried updating that too, but maybe I should uninstall it and try to install it again. I dunno!...I'm really getting irritated now

(Sorry!)
I feel quite obligated to point out that since post #30, which you referenced, a number of considerably intelligent and excellent problem-solving
"
someone else's
"
HAVE actually had many more important ideas to try, and banged their heads together back-and-forth behind-the-scenes as well with other highly competent members of various "specialties". I simply feel that your statement insinuates (albeit unintentionally) that their subsequent work and time-invested has been somewhat insulted and/or diminished to some degree by the way it might come across to some people. I'm
not
trying to make
something
out of
nothing
, here, please understand that, but my respect for these members makes me feel it was necessary to point this out - I'm hoping you understand what I'm saying, and realize that I mean no disrespect to you! I absolutely DO appreciate everything that you've done within this thread (and behind-the-scenes as well)! I would have added that no matter who said it, out of that very respect for everyone that invested their time, including on your behalf! Hopefully that makes some type of sense.
That said, I do agree that a Clean Install is the way I want to go at this point, with an emphasis on the "CLEAN" part. I hate to have something lingering behind after a fix, unbeknownst to me, that will cause future problems! I will also make the similar point, once again, that I'm a little trepidatiousabout not completely knowing what the source of the whole problem really was with much certainty, since it could reoccur if it's cause is of some particular origins (e.g. an update that is incompatible with some S/W or H/W in my system or something, you know what I mean? I want to know if there's something to avoid on the "NEXT TIME AROUND"!)
Irregardless of this, I've also just suggested that I'm leaning towards a Clean (Re)Install as recent as a few posts back, too:

Quote: Originally Posted by
Rubyrubyroo
If you think it's time to "call it" I'll go for a clean install, don't worry! I will need a little bit of help with that though, but I've salvaged all the serial numbers and installation programs I can, so I am willing to cut my S/W losses. If that's your suggestion, I'll elaborate on what I might need some help with, but I'll let you make that call. I'm honestly at peace either way as long as I can pull off the clean install.
So Now that I have had a day or two to work on the Material that Steve suggested working my way through (Greg's tutorial) and I have been working on as much as I possibly could with several unrelated interruptions (including a broken home windows pane that I just had a friend fix to TRY to save time, and only then learned that he (really) wanted to "barter" a trade of services rather than cash, having me fix his laptop's problem - and it HAD TO BE DONE QICKLY OF COURSE! So I've been disassembling that and soldering on a new marginally similar "power socket" to plug in his AC for a DELL Vostro - the usual DELL 19V Weird socket with the center pin and that plastic separator ring part, etc!) And I'm still working on finishing my IV antibiotics "at home" using a weekly home nursing service to bring me supplies and make sure I know what I'm doing and so forth, so there's that several times a day and plus there's still the PICC line hanging out of my upper arm (pretty well secured with bandage material, but it's not exactly a small thing) makes it all the more problematic to do anything like work on a computer easily! My Uncle and Aunt were in a serious car accident a week ago where the airbags didn't deploy (in a new 2015 Ford Explorer) so he broke is neck and my aunt is recovering from more minor cracked ribs and related injuries! So I'm trying to visit him in the Hospital (a one hour commute each way) every day or two! (When it rains, it pours!) But I know you all have many a external things pulling at you as well, but I guess I'm the only whiner right now!
I certainly don't mean to suggest anyone should feel obliged in any way to console me or anything like that! I just wan't you to know that I'm right in the middle of a lot of stuff, apparently (which I've already explained a lot of to John and Steve! Sorry if you have to read this again buddy, assuming you're still checking-up on this thread from time to time!!) Ergo, I am very slow at times and may seem agitated sometime's even when I'm not - But, I don't mean to! I'm also not fishing for Sympathy, I'm sure you all actually do feel for me , which many of you have already expressed in some form or another! My brain is not properly multitasking at the moment...consider it more like a linear program stream at the moment than a multitasking OS!
I'm sorry for all the ranting off-topic on my (indirectly-related) tangential issues for this whole post now! I am fine, I just wanted you to know that, like most of you probably do too, I've got a lot on my plate, and I'm truly trying, but I'm off my game! I ran a highly stressful computer repair shop for over five years, selling it just a few years back, so I should remember more than I do, and I have most any type of parts and software still (EVERYWHERE and DISORGANIZED at the moment though.) I probably have 100 remaining systems 90% of which are missing something, usually the HDD! Some are pretty old some much newer than the current system I'm working on- which is my personal main system. I just ran across a fully functional 386SX (i.e. no CPU coprocessor) system the other day! It's an amazing sight to see! And to imagine that it's so much more advanced that the single-board Commodore 64 - several of which (five I think) were onboard Apollo-11, did you know?! (or the older still, (Commodore) VIC-20, on which I first learned to program before moving up to the Apple II e/c and Amiga 128!) So I'm not a stranger to a wide-range of computers in
any
way. I rarely ask for help (probably far less often then I actually should), but this IS one time that I have done so. I find it quite difficult to do, strangely enough, I'm not used to being on
this end
I guess, and I am used to working alone, so I'm not great at communicating in a manner consistent with my actual skill-level! Furthermore, I've distanced myself in the past few years as much as possible from
repairs
- AND the newest technologies! Maybe that fills in some more of my story so you get where I'm coming from a little bit better (assuming you're interested.) If not you could have easily skipped reading that part, so you should be none the worse for wear!
Just in case you do have a Commodore sitting around, Here's my offering to you:
Code:
10 REM ** My Gift To You **
15 PRINT "Thanks for bearing with me! "
20 GOTO 15

RUN
Enjoy! LOL!
So, with all that stuff out of the way and my decision pretty much made up, I'll follow this up with my questions and thoughts regarding that part, which is also my "proper" reply to Steve...(Technically)....