Hi – Am hoping someone might be able to help me with this problem – I've spent days trying to sort it out, and seem to be no further forward!
SYSTEM
======
Operating system: Microsoft Windows 7 Ultimate (version 6.1.7601; build 7601)
Name: Microsoft Windows 7 Ultimate
Version: 6.1.7601
Service pack: Service Pack 1
Internet Explorer version: 9.11.9600.18097
Model: Precision M6500
System type: x64-based PC
BIOS: Dell Inc. (version: A10; date: 04/06/2013)
Manufacturer: Dell Inc.
Version: A10
Date: 04/06/2013
Motherboard: Dell Inc. (0R1203)
Manufacturer: Dell Inc.
Product: 0R1203
Version:
Chassis: Portable
Processor: Intel(R) Core(TM) i7 CPU Q 820 @ 1.73GHz (architecture: x64; 1734 MHz)
Name: Intel(R) Core(TM) i7 CPU Q 820 @ 1.73GHz
Manufacturer: GenuineIntel
Max clock speed: 1734 MHz
Architecture: x64
Level 2 cache size: 1024 KB
Socket type: Microprocessor
Version:
Physical memory: 15.9 GB.
Hard Drive: Samsung SSD 840 Pro
The main symptom of the problem(s) is a very slow, unresponsive laptop – The problem seemed to start "out of the blue" – i.e. Not after any new hardware/software installations or Windows Updates etc.
Basically, as far as the program responsible for the excessive CPU Usage goes, I've observed that it will be any program once that program has just been launched - It immediately causes the usage to go to 100% - So, it doesn't appear to be any particular program - or service - such as svchost(netsvces) - Which frequently is the cause, but will then be "overtaken" if I launch, WLM, for example.
Using a combination of Process Explorer and DPC Latency Checker I can see that the CPU Usage is frequently hitting 100%, and even with minimal no's of programs running will be around 40% plus. Am guessing from the number of Hard Page Faults which DPC Latency Checker is showing that this is the cause of the CPU usage and the unresponsive laptop.
I have a basic knowledge of PC's, but am not really up on the causes of hard page faults – believe it to be related to searching the pagefile.sys for data not found in RAM. As I've got 16GB of RAM installed, and it's all tested fine, I'm confused as to why the system is using the HD instead of the RAM modules to store recent data etc.
To hopefully clarify things, without making this a 100 page post, I've attached the DPC report and the Process Explorer screenshot, also a HijackThis Log – I don't really know what I'm looking for in them, which is why I'm hoping someone on here will be able to make sense of them!
So far, to try and eliminate or trackdown the cause of the problem I have :-
- Full AV scan with Avast – All clean
- Full Anti Spyware/Malware scans with SAS, MBAM, and Spybot S&D = All clean
- Anti Rootkit scans with TDKill and TDSSKiller – No problems found
- Completed all available Windows Updates.
- Updated all Dell drivers, and any other drivers I could find updates for.
- Ran SFC = No errors
- Completed a Windows "reinstall" – from installation disk using the Upgrade Method
- Disabled all "Audio Enhancements in the Sound Mixer – (As recommended in a post on another forum)
- Ensured that WMP Libraries are not set to C:\Library - (As recommended in a post on another forum)
- Checked I have the latest BIOS update available
- Run CCleaner to clean up and correct any registry errors
- Swapped out the RAM Modules, and replaced with known good modules
- Swapped out the Hard Drive – Which behaved exactly the same in another machine
- Run In depth DELL Pre Boot Assessment tests – All hardware passed with no errors
- Booted into Safe Mode and still experienced the same symptoms
Many thanks in advance for any helpful information – I am now at a loss as to what to do next!
NeverSurrender(Ironically!)
LATENCY MONITOR LATEST 1.docx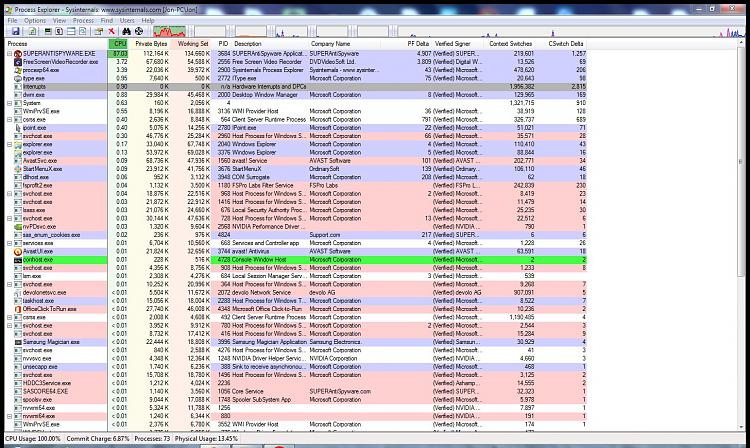 Most Recent hijackthis.log