Hi all
Regarding Zemana, I'm not using the old AntiMalware Premium. I'm using the new all-in-one AntiLogger 2.21 Premium (processes still say ZAM.exe) which combines the old AntiMalware and AntiLogger Premium programs, so I guess it'll probably be more resource heavy then the old ZAM Premium. Disabling Pandora made no difference - ZAL 2.21 still spikes at nearly 100% CPU every 5 minutes or so (see screenshot below):
Eset isn't as bad as I thought, spiking at around 50% but not that frequently.
I think the main issue is svchost PID 2756. When Windows Update is enabled, it appears as below, spiking at around 15% CPU every 15 seconds or so: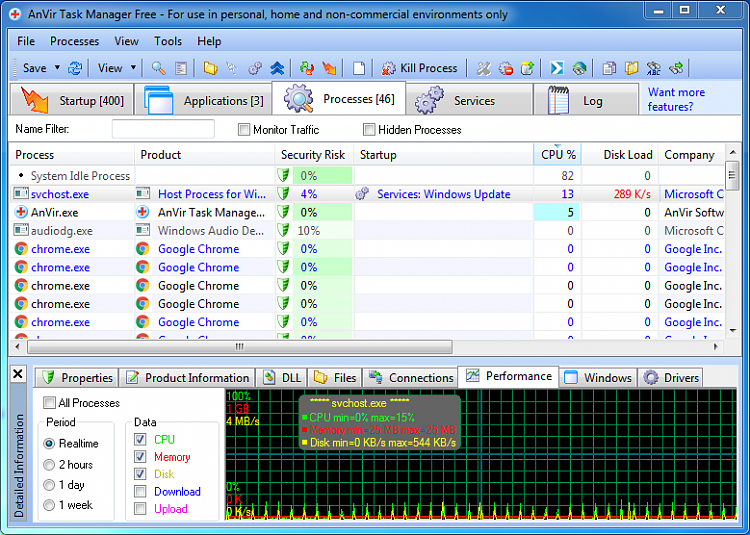 When WU is disabled though, Windows Management Instrumentation appears in the Startup description of svchost 2756 as shown below, with identical spiking: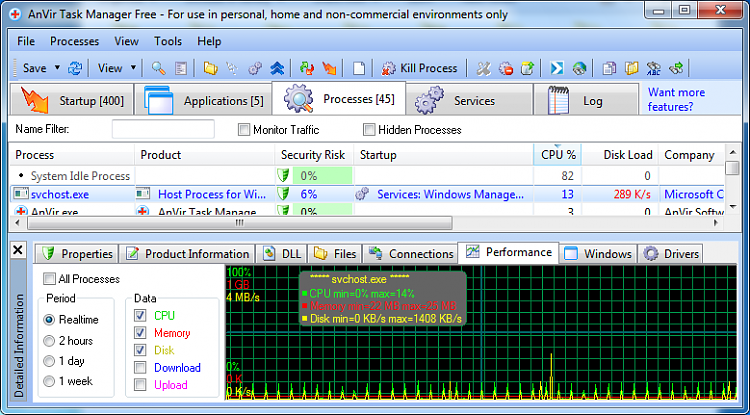 However, when both of these processes are disabled, the spiking still occurs. In fact, I've disabled all of the other processes apart from Task Scheduler (wasn't able to) associated with svchost 2756, but the 15% spiking every 15 seconds still occurs (Process Explorer shows the same).
So it would seem the process description Anvir gives in the Startup column doesn't necessarily relate to the process that's causing the spiking. I'm wondering if it's some automated task in Task Scheduler that's responsible. I've had a look and there's nothing that runs every 15 seconds.
Any thoughts would be very welcome.
PS - only a few sites seem to be resource hogs - for some reason MalwareTips is one of the worst. I was also reluctant to use Mem History. VoodooShield flagged it as a threat mainly because it wasn't signed. Probably fine but played it safe.
Also, I'm using High Performance power plan, and no core parking or freq scaling changes (that I'm aware of).
I also had one instance of a problematic Zemana update but a clean install, uninstalling with Geek Uninstaller, sorted it. Otherwise just updating via ZAL's UI has been sufficient.