Hi Kaide,
Unfortunately i believe after what we've done there is no other accepatable option.


Even thou you've done it before
Clean Install Windows 7
PLEASE DO NOT have any other HDD/SSD's devices attached during install.
To bypass the need to install 200+ updates, read post 2 VERY CAREFULLY from this thread.
Windows Update will not update and I've tried multiple fixes
then when done turn OFF the MS device driver update option, and set updates to let me choose,
DO NOT INSTALL ANY INTEL drivers offered, hide them.
As you have a custom build only go to/use the ones offered by them.
Merry XMAS
any probs come on back.
Roy
Hello Roy, I'm afraid I'm back again

I followed your instructions for both the clean install of windows 7 and the post about avoiding the need of installing the 200+ updates.
The install went fine and I updated only the updates as stated in post 2 of
Windows Update will not update and I've tried multiple fixes.
At this point the display was still obviously displaying in 800 x 600 as there was no specific graphics driver installed, so I then went and downloaded the latest graphics driver for my card and did the install.
But upon restart the resolution was still 800 x 600 (unchangeable), there is no option upon right clicking the desktop to access "Nvidia control panel" as usual, and the pixels seem to be displaying oddly as can be seen in the screen shot below, they are not fixed though as if I move my cursor around the pixels disappear in the cursor's location but come back when moving the cursor elsewhere... very odd.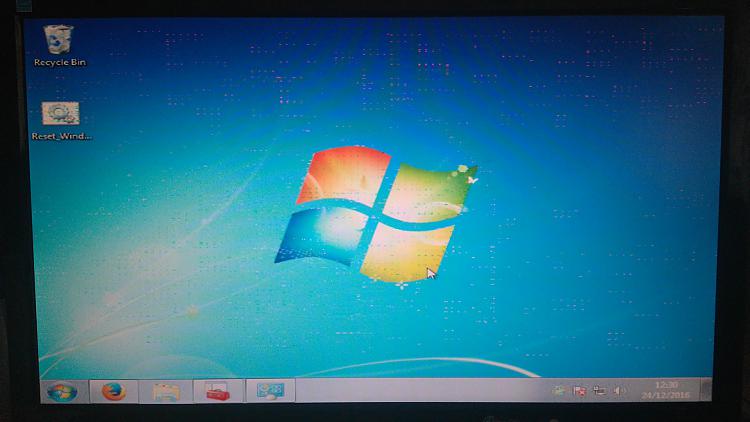 This strange issue with the pixels and resolution is what I was having before with the original issue before the fresh install so I'm completely at a loss as to what to do.
Also the graphics card in the device manager still had the "!" on it after installing the latest driver.
There are also several other devices under "Other devices" that have the "!" and seem to be missing drivers. Could this be related to display issues? I'm not sure as to how to go about updating those others drivers either.
There are also 142 "Important Updates" and 69 optional updates available in windows update. I did disable MS device driver update option and set updates to let me choose as you said but was wondering if it's safe to do these updates or if it's a bad idea?
All in all I'm left completely baffled seeing as it's a fresh install but looks like I may be having the same problem display wise.
I'm sure you and the other tech guys here on seven forums have better things to do at this time of year so I apologize for posting again but I'm at a complete loss. Obviously I understand I may have to wait some time for any help due to the holiday season.
Anyhow Merry Christmas to you and all the other staff here at Seven Forums!
Kaide.