Hi all,
Recently my computer has shown brief moments of "stuttering". There isn't a single thing that triggers this problem, it can occur while watching youtube, working in excel, even doing simple things like opening windows explorer, etc.
So, among other things, I looked at the CPU temperatures and I found out that HWMonitor shows a CPUTIN temp of around 90°C (picture attached shows 84°C).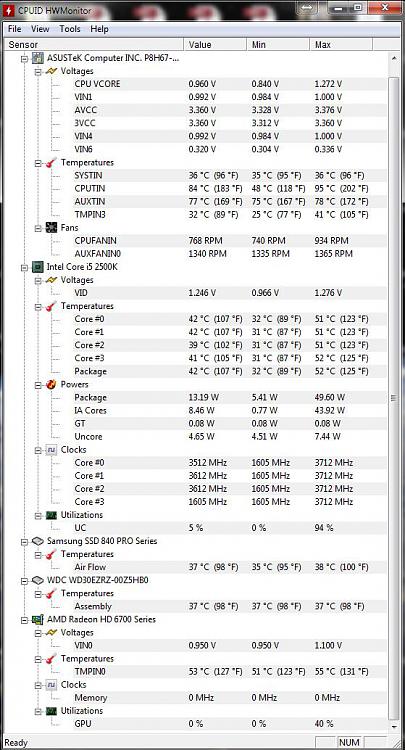 I thought this could be the real issue with my computer but decided to have a second opinion and downloaded Asus' monitoring tool and it showed temperatures around 30°C for the CPU.
Temperature in HWMonitor for TMPIN3 is almost the same as the CPU temp in Asus' utility which led me to think they get its reading from the same sensor on the MOBO.
So my questions would be:
1- Are both readings accurate?
2- If those readings are actually real, is it normal for the CPUTIN temp to go that high?
3- Are my temperatures something to worry about (CPUTIN in HWMonitor around 90°C)?
Tanks in advance guys!
Other info:
I haven't performed a fresh windows install in 2 years so there could be hundreds of other causes for the "stuttering". At this point I'm more concerned about the temperature readings because I will probably re install windows in the near future anyways.