Just thought I would post my WEI before upgrade and overhaul.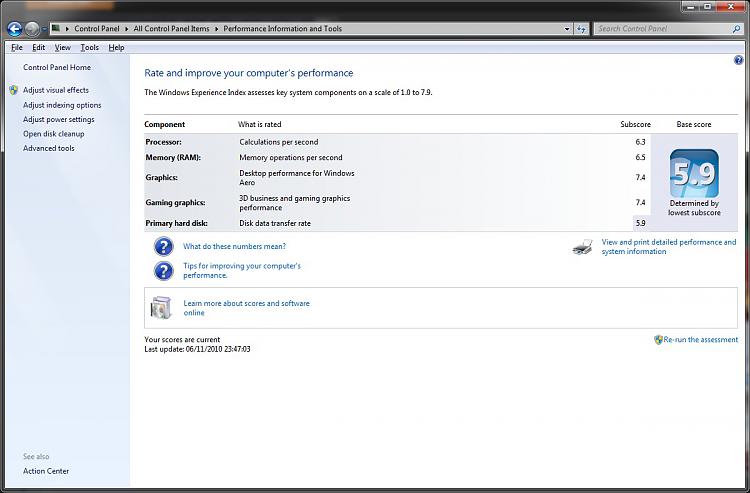 Build Specs:
OS: Windows 7 Ultimate X64
Motherboard: ASRock A770E+(AMD 770 + SB710 Chipsets) AM2/AM2+/AM3 Socket (2600MHz FSB)
CPU: AMD 64 X2 6400+ Black Edition @ 3215MHz -*(AMD Phenom II X6 1090T Black Edition 3.2GHz Socket AM3 Six-Core CPU - HDT90ZFBGRBOX)
Memory RAM: 4GB 4X1GB Transcend DDR2 PC2-533 @ 266MHz -*(8GB Corsair XMS-DHX PC2-6400 800MHz DDR2 Non-ECC CL4 240-pin DIMM (Kit of 4 x 2GB)(After 15th December).
Hard Disks:-
Seagate Barracuda LP 1.5TB 5900rpm 32MB Cache 3.5" SATA 3.0Gb/s
Samsung Spinpoint EcoGreen F2 1.5TB SATA II 3.5" 32MB Cache, 5400 RPM
Graphics: 1 X Saphire Radeon HD 5770 1GB DDR5 -*( 1 More To Come after Xmas Then will be 2 X In Crossfire).
Cooling:-
Corsair H50 Water Cooling System
OCZ - Extreme Thermal Convection - XTC Memory Cooler Rev 2
Optical Drives:-
Optiarc AD-5200A-0B 20x Internal DVDRW
HL-DT-ST DVD-ROM GDR8164B ATA Device
SONY DVD-ROM DDU1615 SCSI CdRom Device
PCI Cards: PCI VIA VT6421 IDE RAID Controller 3 X SATA II (2 X External 1X Internal)
PSU: 550W ATX 20+4 Pin SLI Ready PSU -* (Evo Labs 900W 80+ 80 plus Dual 12V ATX PC PSU)
* (Future Upgrades)
Ammended The WEI Snapshot, thanks for the tip.
RealGoneKid