Looks like your having some RAM issues.
Almost any 2GB RAM should have a better score than that.
Update your specs or post the specs for this computer, maybe someone can give you some suggestions to increase performance of the RAM.
Run the assessment from this thread, instructions are on the first page, post results there.
What's your memory assessment speed?
D/L and post Memory and SPD tabs from
CPU-Z
Which SSD did you get?
Looks like a really nice system, except for that RAM

Here are my cpuz and winsat screen values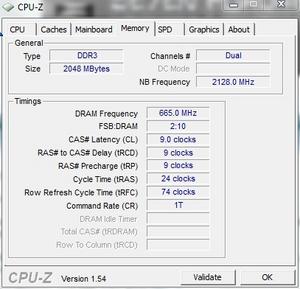 I have Corsair XMS3 DDR3 RAM. The model from this link:
Newegg.com - CORSAIR XMS3 2GB (2 x 1GB) 240-Pin DDR3 SDRAM DDR3 1333 (PC3 10666) Desktop Memory Model TW3X2G1333C9A G
. I thought the scores for 2GB of RAM is normal. I thought you have to have at least 4GB of RAM to get in the 7s for RAM.
As for the SSD, I have the Intel X25-V G2.