Download and burn to CD the HD maker's diag/repair CD, boot and run full scan and you will have your answer:
Hard Drive Diagnostics Tools and Utilities (Storage) - TACKtech Corp.
-- and so said our friend gregrocker elsewhere in this forum, a day ago.
Nothing wrong and we have been habitually burning bootable CDs and DVDs from ISO images supplied by various vendors and software authors. A month ago even me would have done it - in fact I did burn the Seatools DOS a month back

. But not any longer - not after I came to know the power of EasyBCD.
And so here we take-off. Fasten your seat belts.
Download and install EasyBCD 2.0.2 from
here
.
Create a folder in any convenient location on your HDD and move all the bootable ISOs into that folder.
Here I have them on my H Drive.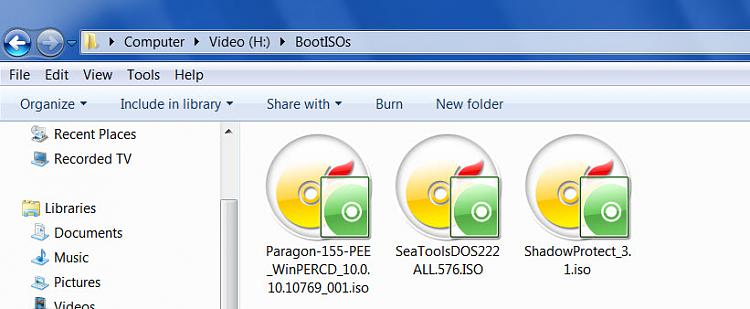 Now run EasyBCD.
1. Click on the "Add New Entry" tab on the left.
2. Select the "ISO Boot" Tab.
3. Give a name in the "Name" field.
4. In the "Mode" field select "Load from Memory"
5. Show it the path to the stored ISO which you would like to run on boot.
6. Click on "Add Entry"
You are done.
To check,
7. Click on "Edit Boot Menu" and you will find the bootable ISO name there.
If you want to rename or change the menu-show-time, do it and then click on "Save Settings". Close EasyBCD.
Next time you boot you will be presented with an option to boot into Windows or the bootable ISO.
Say goodbye to CD, DVD burning. :)