Hi geeks and geekettes.
I am most probably reaching the moon, trying something impossible, but still this is not giving me peace before I at least know it is not possible.
Scenario: Home office, 5 PCs. Two of the PCs belong to a domain when connected over Cisco AnyConnect VPN client (let's say Domain 1.), one PC belongs to another domain when connected over AT&T Global Network Connect VPN client (Domain 2). One PC is my current favorite laptop, one is our home server.
All three domain PCs running Seven Pro x64, my laptop Eight CP x64 and home server Windows Server 8 Beta x64. Networking OK, all PCs can see others and share when used on local network (VPN connection inactive).
I am using
Synergy
to seamless share mouse and keyboard. It works flawless EXCEPT this:
Laptop and home server can share mouse & kb with either Domain 1 PCs or Domain 2 PC but not with both. Domain 1 and Domain 2 PCs can share mouse and KB but then not with laptop and home server.
Maybe this explains it better (DEDDXXXXXX PCs = Domain 1, 2522XXXXXX = Domain 2):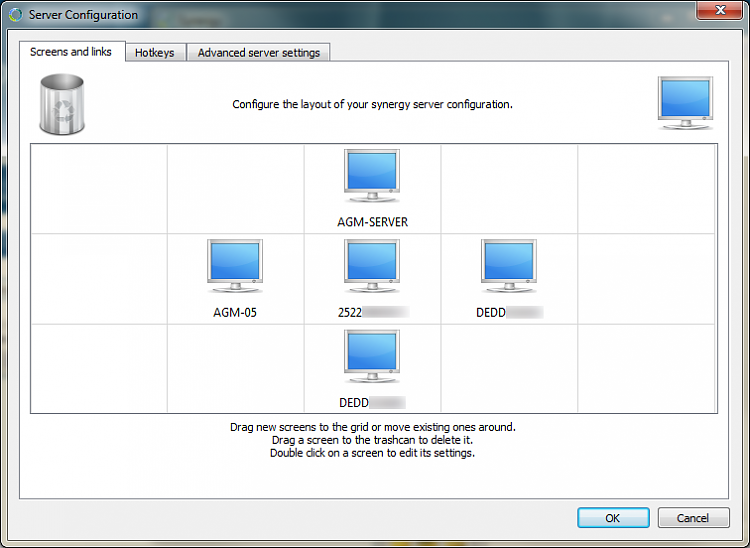 This would be the ideal situation, Domain 2 PC as Synergy server, other PCs clients. ATM I can share mouse & KB with AGM PCs & Domain 1 PCs, or AGM PCs & Domain 2 PC, or Domain 1 PCs & Domain 2 PC. I just simply can not share mouse and kb with all 5. Error message on Synergy server always the same: "Connection refused".
Notice that this happens when domain PCs are not connected to domains i.e. when they are using just my home network, members of the same subnet, workgroup and homegroup. All others wired, laptop wireless connection.
If you have any ideas please share it!
Kari