JBmorris I have no idea what filesystem become afterwards.
jumanji Thank you for the reply and trying to guide me.
I sent my HDD to the University and people who specialized recovering data after corruption. That is why I can not send screenshots of the HDD right now but I can try describe as close as possible.
1 - I didn't check the HDD with any Disk Management application so I don't know.
2 - HDD looked like it had a weird name something like "
I: |X a'·▬
" it was clickable and I was able to get into the HDD but files were all looked like gibberish. It was also showing that 1.36 TB free space of 1.36 TB of HDD. Simply it was showing empty even I had lots of files with gibberish names in it.
3 - Previously I had very classic files and folders with normal names (Photos, documents, downloads, etc) after messing it up it looked like this. (This is an image I found online and it is not my screenshot but very similar characters I had afterwards)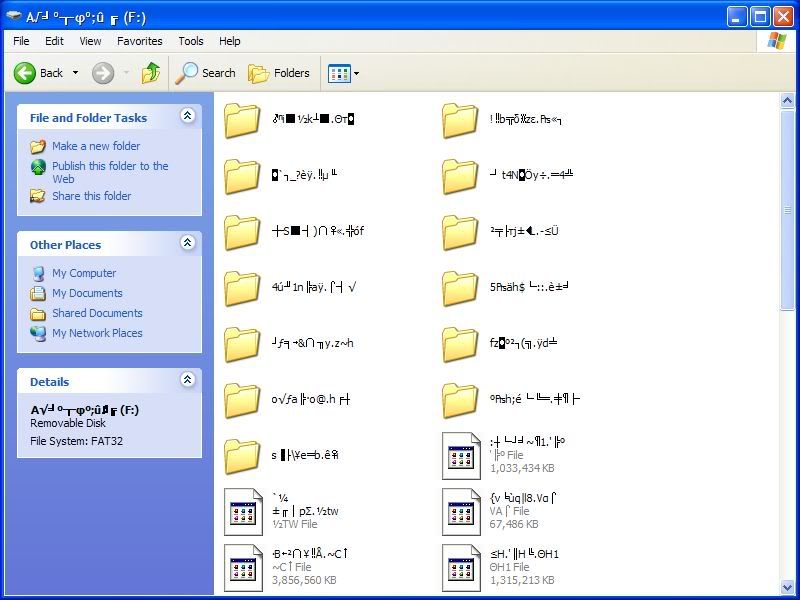 Another thing is you can see folders and files because of their icons and know which one is folder and which one is a file but in my HDD all of them looked like unassociated files and they were all looked like the files in this picture above.
Again I am sorry I didn't tihink about sending screenshots in my first post.
I can tell you this, Power ISO was going to start writing Windows 7 Pro bootable files on this HDD but it took me only 2 or 3 seconds to pull the USB plug of the HDD after realizing Power ISO was trying to write on my portable HDD not to the flash disk. It didn't even get to the loading screen with that percentage bar.
I was so afraid to mess it up more with trying recovery tools but I installed and tried Recuva application after reading about it and saying it won't damage anything and it will just show you if you can recover it. Just because my HDD capacity is 1TB and it was almost full it showed Estimated Time Left : 16 days" after running the software. I simply stopped it and send it to the some information technologies department which works for government to recover data from digital storage units. So I have some hope but I really dont know if they can recover my HDD.
Again thank you for trying to help... If everything works out I will send you $100 bucks just for trying to help me.
Best Regards