Hi Everyone!
Status Report:
Downloaded Libre Office (Latest version 4.4.1.2 ) and installed it successfully.
I opened up the database to begin... let it choose whatever standard items it wanted to---registered with Libre Office (Ok, its just a test database, nothing personal yet in it) and...
I received the following warnings and error messages.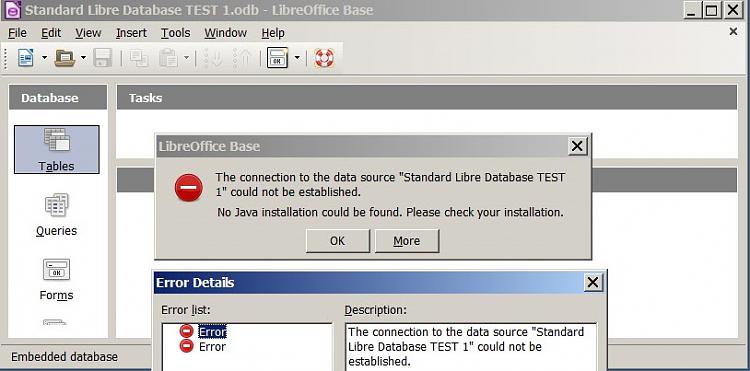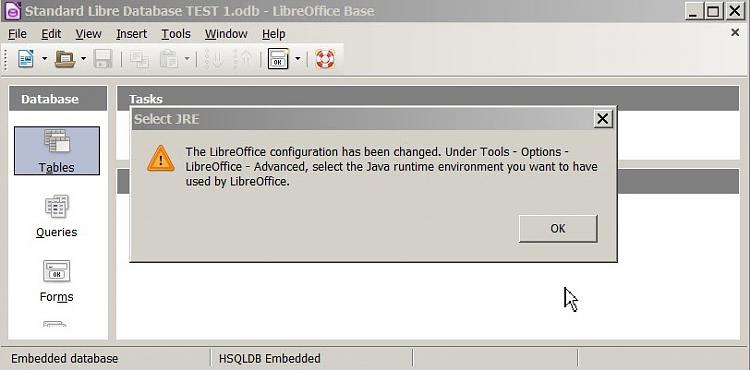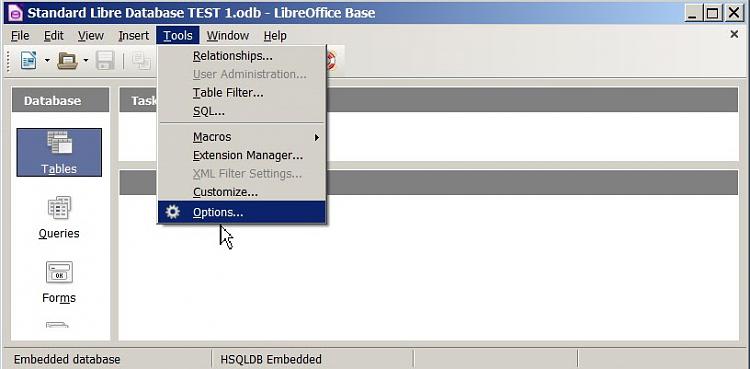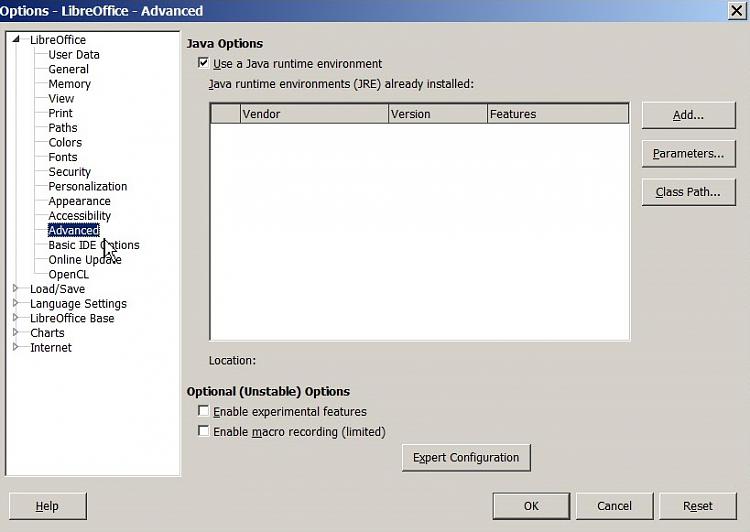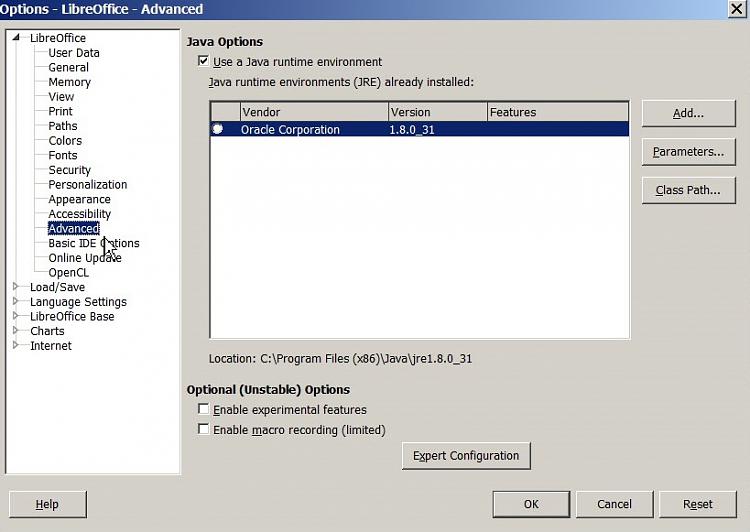 Of course I went to Tools Options Advanced, etc
Guess what? Only ONE Adobe JRE is listed....
Selecting it still does not fix the problem!
I have not been able to successfully fix the Open Office JRE Runtime Error problem!
I was told Libre Office will not have the JRE problem that Open Office had so I could use it!
I'm now without the database program...
Also Midori Wrote:::
I recommend though choosing to save files as Word if you want to retain compatibility with new and old versions of Word.
Choose 'Libreoffice' > 'Tools' > 'Options' > 'Load/Save' > 'General'
Set in 'DocumentType' set the options as below:
'Word' > 'Microsoft Word 97/2000/XP/2003'
'Spreadsheet' > 'Microsoft Excel 97/2000/XP/2003'
'Presentation' > 'Microsoft Powerpoint 97/2000/XP/2003'
Microsoft Word has rather bad compability with ODF files.
Why can't my Spreadsheet in Libre Office be saved in Microsoft Excel version??
Why not???
See Screenshots below when I tired to do this.
Where do I find the differences ????
What is actually lost if I attempt to save it??

[QUOTE=Midori;3012231Microsoft Word has rather bad compability with ODF files.[/QUOTE]
The information about Libre Office on the multiple windows or in their manual was not clear as to what is lost if I did it
And as I said before, when trying to share ODF Open Office 3.3 over the years with others who ONLY have and ONLY want to have Microsoft Office programs--- (I can't afford a new one)---they complain that the opened document is terrible! A mess! Can't read or see documents/spreadsheets etc using Microsoft Office versions they have....
It is NICER that Libre Office has settings to save in those Microsoft Office formats....
But after I worked to get everything just "right" to save it in that format is problem!!! as I can't see how it will look on Microsoft viewer not having a working one... (My student freebie edition expired, and you know Microsoft protects itself with those expiring product keys etc)
So where do I go now???
Don't mis read this!
I like Libre Office,
will have to learn it so I'm using it like I did Open Office (Never knew about he Apache Office story etc so never upgraded to it)...
Appreciate everyone's help as I begin to learn all the new problems with using Libre Office
Again.... last line of post..
If it is not good to combine this post with my old Open Office one (as it was here I learned of Libre Office)
I can set up a brand new Thread
With Libre Office in the title so others on the Internet/Googling can find it and find out what the answer is as this thread is only indexed to Open Office....
Thanks!!