Hi Everyone:
New Problem:
Using Open Office suite of programs ver 3.3 I am now unable to open and use it due to the following error message in screenshot below:
Researching the reason---it is because Open Office uses Java for all of its data base/calc programs and some of the word programs, so you need to install a better Java.
Problem
Java site is confusing/unclear no real help no phone only knowledge base (links posted below)
Screenshot of site: (see items in red underline)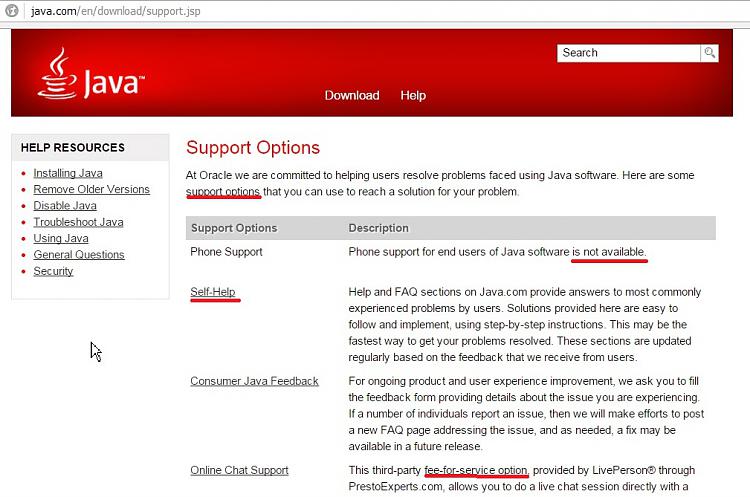 OpenOffice.org Forum :: Database Tables give JRE Error
(Comment: not helpful as I don't have the AOO version or latest OO version, and its refusing to start anything in Open Office suite---and I do have x64--- but wondering about using x32 bit Java for entire computer as won't that destroy its usefulness when the computer says "but I'm a x64 computer and I need Java x64 for other applications!) (confusing)
https://search.oracle.com/search/search
group=Java.com&search_p_main_operator=any&search_p_atname=url&search_p_op=contains&search_p_val=en&q =JRE+java+runtime+environment&submit.x=8&submit.y=4
the Open Office site offers only this help , which is no help of course.
https://forum.openoffice.org/en/foru...hp?f=6&t=53796
I see each explains how to do it... when I tried to follow the instructions and put in a new Java (done it 3-4 times over past few months, I'm just frustrated) ----Even though I know where to go to tell Open Office to "choose" another JRE Java Runtime Environment---it still says "sorry " its not the right one...
Questions are simple:
1. What am I doing wrong?
2. How to fix it without any help/assistance from Java or Open Office sites?
Thank you!
XP VM USER (got stuck with name on first visit here)