When I had a WD external drive (quite a few years ago), the only part of the software I actually installed and used was the spin down utility that would spin down the drive so I could eject it. Most of the time, I didn't even need it to eject the drive so I could disconnect it.
Well, I'm now one of those people that kind of worry about SMART alerts. I think I did have it on my old computer, but I'm thinking if I actually need it...
As we told you in another thread, as long as the backup files you have on the external drive are also on another external drive, you don't really need to worry much about the SMART attributes. I check mine maybe once every two or three months just for excrement and merriment but I don't worry about it. I use
Speccy
to check them but I just use the overall rating, not the detailed one unless I do get a warning (and that's JUST for use in making a warranty claim). As long as it says good, I'm a happy camper.
This what the Storage display in Speccy looks like: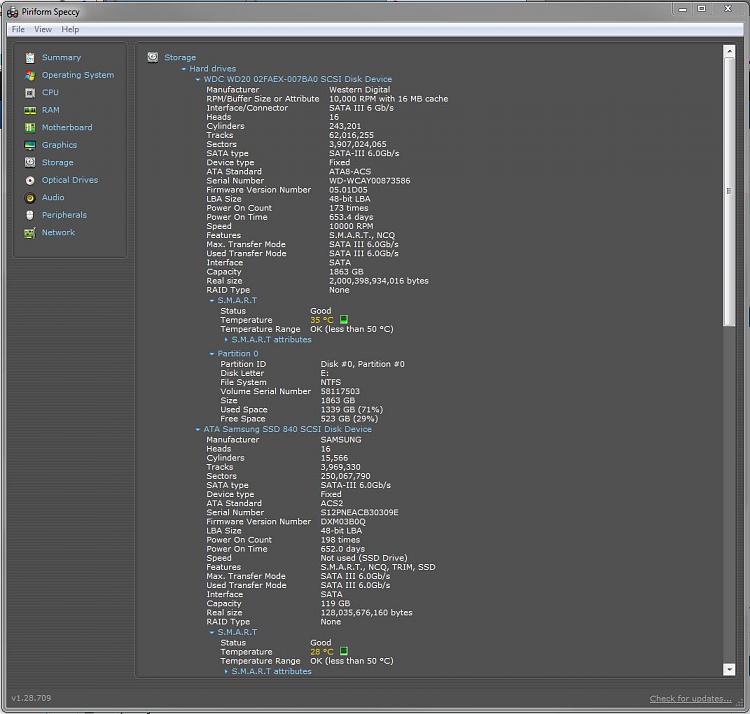 As long as the Status per drive is Good, and the Temperature Range is OK, I'm golden.