hi i really need this clock for my desktop (or one similar to its design), but the only sources are from this publisher's webite- called Okozo Desktop. it's not exactly a standalone widget. it comes as a freeware package supposedly managing ur wallpaper and may have other functions, gadgets etc. (and who knows what else).
i have the installation file, but seem to be stuck in a suspicious loop; the program keeps telling me i need flashplayer plugin but of course as u know, most recent IE versions are already incorporated with flashplayer and by default it is enabled. also i'm not too keen on installing it as a 'package' because i'm already planning to put on a particular rainmeter to handle my primary wallpaper.
i was wondering if anyone knows how to extract the clock tool from the install package (if it does indeed exist), or maybe point me to another similar-looking clock they have tested. has to be 3d and slant out like that.
but the clock itself does look cool huh? check out this screenie i d/led from the net :-
Figure 1 : Okozo 3d Digital Red Slant Clock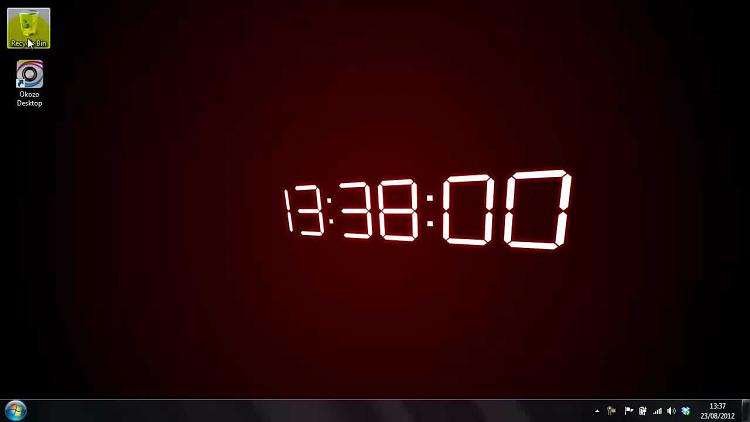 i have checked on comments at various d/l sites and they r pretty negative towards this publisher. it could very well be malware. i would not be so brave to blindly install this if i weren't on a test pc with no application data. no, i'm not badmouthing a publisher whose product i haven't tried, i'm merely repeating the comments of what others have experienced; members on this forum have been so helpful to my queries i feel it is my responsibility in the very least point this out ... remember the name! Okozo Desktop. dodgy ...