Greetings.
I have syncing issues with my iPhone 3GS since I upgraded my system from Vista (x86) to 7 Ultimate (x64). For most of the time when I try to sync media (including music/video/photos/apps) to iPhone, the system will lag/stutter heavily (laggy mouse cursor, stuttering sound, etc.) The stuttering sound occurs to every programs that is playing sound on the system (iTunes, Windows Media Player, Winamp, Media Player Classic, YouTube videos playing on internet browser, etc.) The stuttering sound also spread to external USB headphones. (Logitech G35)
I have attempted several remedies in order to fix the problem, these include restoring iPhone firmware (and updated to the latest version available, which is 3.1.3), reinstalling iTunes (The latest version, 9.1), updating drivers, updating BIOS, and ultimately formatting and reinstalling Windows. Furthermore, I tried swapping to the x86 version. The issues were still not solved.
At first I suspect that the iPhone might be faulty, so I tried to sync it with an older computer. (Running on Pentium 4 2.6GHz, 1GB RAM and Windows XP Pro x86), it appears that there's no issue with the sync at all.
The brief system specs are as follow...
LENOVO IdeaPad Y450 (BIOS version 17CN38WW, latest installed)
Intel Centrino 2 Technology, Montevina Platform
Intel Mobile Core 2 Duo P7450 2.13GHz, 1066MHz FSB, 3MB L2 Cache
Intel PM45 Cantiga Chipset
Intel Wireless WiFi Link 5100
4GB DDR3-1066MHz RAM
nVidia GeForce GT 130M GPU with 512MB GDDR3 VRAM
Western Digital Scorpio Blue 500GB SATA HDD
Realtek ALC269 High Definition Audio
Hitachi/LG GSA-T50N DVD Super Multi Recorder
Microsoft Windows 7 Ultimate Build 7600 (Retail) 64-bit
Here's the latency screenshot.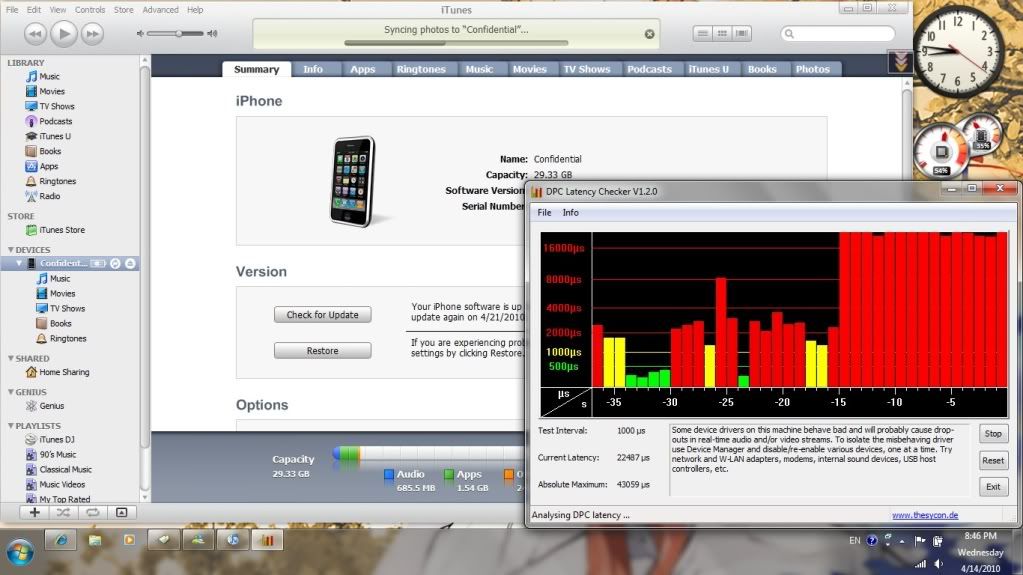 Any suggestions would be appreciated.