Best Dual, Multi-Monitor Software
Adding Multiple monitors to your setup definitely increases productivity. But it can get all tricky without use of the right software.
Windows 7
gives you a decent Multi-Monitor support, but trust me its only the beginning.
While hunting down for better Multi Monitor softwares, I tested a dozen of available options and then shortlisted a few options:
1. Display Fusion
DisplayFusion kills the pain and adds a taskbar to every monitor that works and looks just like the Windows Taskbar. It also lets you put different wallpaper on each monitor right from your local drive or from Flickr.
Features:
Advanced Multi-Monitor Taskbar support
Different Wallpaper on each monitor OR span multiple monitors with single wallpaper.
Easily move a running window to different screen with one click.
Special TitleBar Buttons to move/size/control windows among screens.
Auto-snap windows to the edge of your monitor
Integrated Flickr.com, Vladstudio.com image search & download
Fully Customizable HotKeys: Move windows to next monitor, maximize in next monitor, maximize single window to multiple monitors, do almost anything your imagination lets you between multiple monitors.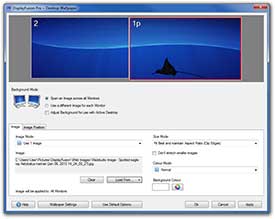 Display Fusion is available in two Versions: Free, and Pro version ($25)
Download