Is your system too overloaded with apps? Does it take way too much time to boot up? Would you like a simple, uncomplicated software that can help you optimize the programs that load on Windows startup and decrease the time it takes your system to boot up?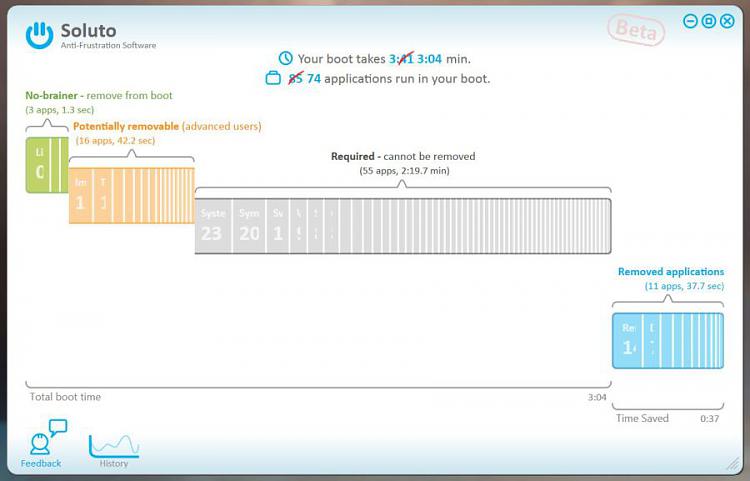 If so, you should check out Soluto. This program takes the concept of optimizing your system's startup program to a new level. From a purely technical perspective, Soluto doesn't do anything that is not been seen before: it either disables programs that start with Windows or otherwise delays them so that they load up at some point after the boot process is finished (things that freeware apps such as SysInternals Autoruns, Starter, and Startup Delayer have had on offer for quite some time). The difference is that Soluto succeeds in making this optimization process accessible to everyone regardless of their technical proficiency.
Soluto's genius is that it is people-focused rather than PC-focused. It measures the time that it takes your PC to boot up, separates the apps that can be removed or delayed from those that absolutely have to be there, shows you exactly how much time each program is adding to total startup time, and gives detailed information on what the program is, what happens if it is removed from startup, as well as a recommended course of action. Last but not least, Soluto has a "social" aspect where it tries to employ the collective wisdom of its user base to both describe unknown apps as well as suggest solutions and contribute questions.
Worth mentioning is the fanciful term the developers of this app refer to this project: decoding the PC genome. How cool is that?