I use a 4.1 surround sound setup with onboard sound, and I can't seem to get sound from my rear speakers. I only get sound from the front. I didn't update any new sound drivers, and used the Microsoft and ATI ones.
When I do the sound test, it shows that the 4 speakers show some sound activity from the green status bar.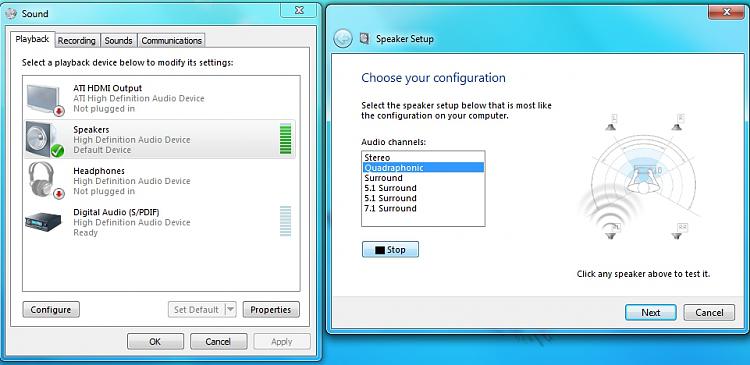 But no sound is coming from the rear speakers. I switched my speakers around to test if the speakers themselves are faulty (and they aren't). I went to the RealTek website and downloaded the latest driver. After installation it prompted me to restart. After restart, all my files in my desktop disappeared! My rear speakers are still not making any sounds after the new driver. I did a system restore to get my desktop files back.
I had nearly the exact same problem when I used Windows XP x86 (the difference being my desktop files weren't deleted when I installed the latest RealTek driver in Windows XP).
These speakers used to be connected to a Sound Blaster card from an old computer, and the surround sound worked on that.
Can anyone help me?