hi, i really hope you guys can help me out. i have a Creative Sound Blaster X-Fi Surround 5.1 USB sound card, it works great, i have a logitech X-540 speaker system hooked up to it for surround sound.
my problem is that windows 7 will not keep the settings for "full-range speakers" under configuration. this is very frustrating cause it sounds very dull and i have to change them back to full range after every reboot.
here are some screens of what i'm talking about:
1. right click the speaker and properties everything looks normal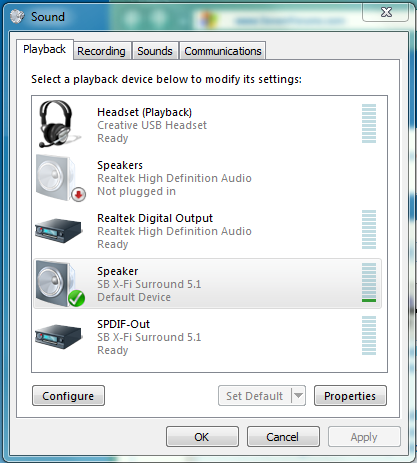 2.clicking configure on my speaker output brings up this... notice the "small" size of the speakers in the setup (this means they aren't setup for full range) but it is correctly set to 5.1 output by default
3.the layout is also correctly set every time
4.here is where the problem is, neither of these check boxes save upon restart and they make a huge difference in sound quality. how do i get this to STAY checked upon restart???
5. this is what it looks like after i select both check boxes, notice the "bigger" speakers in the setup. this is what i want it to look like as soon as it boots up.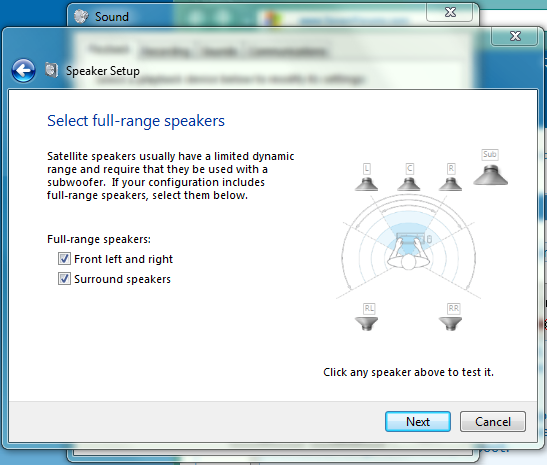 this problem is very frustrating and i could really use some guidance as to why it is not recognizing my speakers as full range when the card and the speakers support it. once i set it up to full range it works fine for the rest of that session but once i reboot i have to set it back up again... why is it not remembering!!! :/