Hi,
Did my first budget pc build and I feel really sick because of a problem!
I've grown tired trying to fix this on my own and i see this as my last resort.
My problem is that when i plug in my headphones to the front panel of my PC, the sound plays out of the speakers still.
What i want is for the speakers to cut out when i plug my headphones in.
Headphones work as on my laptop speakers cut out when i plug in the headphones!
I've gone through forums and stuff and the instructions/help they have does not cover mine.
Here are 4 printscreens of my problem:
Below is the printscreen of the Speaker properties. As you can see, it shows the front and rear port together.

Below is the window i get when i click on the folder icon (connector settings ) on realtek manager: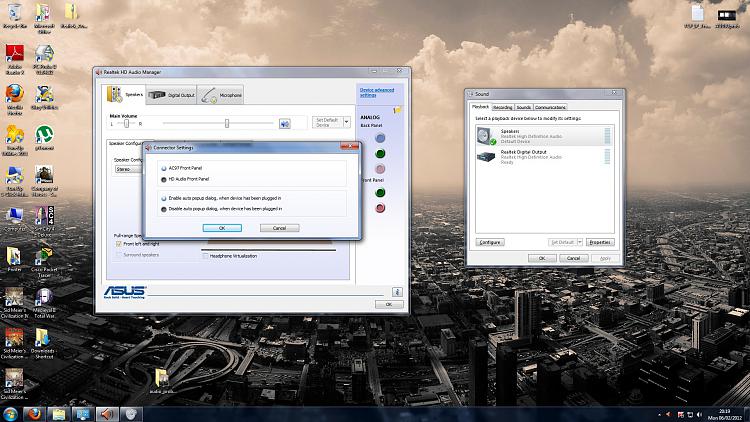 Below is when i click on the link 'device advanced settings':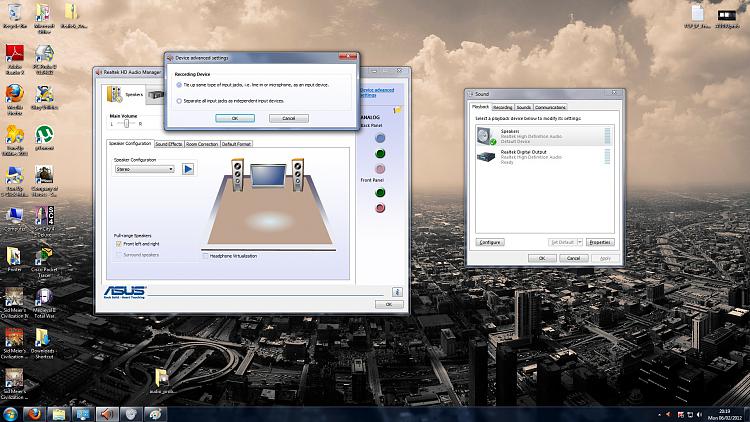 Below is when i click on the speaker icon in taskbar and click on 'volume control options':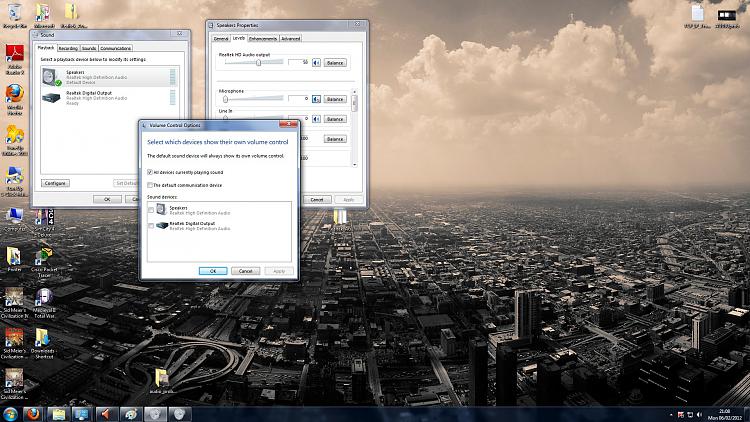 So many forums/help guides have the disabled rear panel option thing and among other things but i dont have them.
The audio driver i downloaded from the asus website with respect to my mobo.
I've tried to include everything and sorry if i've left anything out.
Will be checking constantly for replies so i can reply back!
Please guys/girls,
Is there a way to fix this? I'm 20 and i've had really crap headaches over this.

My temp fix is to remove my audio cable from the rear lime panel that goes to my monitor speakers.
I beg that you great people can fix this thorn in my side!!!!!
Please!
Thank you,
Daniel
ps. system spec i added when i registered, sorry my head hurts
Edit: i have uninstalled and re-installed the audio driver from the asus site many times.
my anti virus is kasperksy internet security 2012
edit:
i've alsso, gone into BIOS and put on HD and AC front panel and vice versa, however it does not change any of the settings.
(in realtek when i click on connector settings and click HD, i get pop saying "you've just unplugged device.... and the front panel fades. when i go back to ac, the front panel comes back.)