FINALLY FIXED
I would never ever thought this was the problem for me!!
My speakers was plugged to my rear BLACK audio panel.
So decided to play around with my speakers connection, i unplugged my speaker and plugged it to my rear GREEN audio panel from the BLACK panel.
Once i connected my speaker to the GREEN audio panel, from the Realtek Audio Manager it will pop up sayin "which device did you plug in'
I TICKED the 'FRONT SPEAKER OUT' and clicked ok.
MY SOUND FINALLY WORKS NORMAL NOW!
So my problem all this time was that my speaker was connected to the wrong audio panel... weird...coz when i was using windows xp, it was connected to the BLACK audio panel. When i installed windows 7 x32 my sound was all distorted and couldnt get proper sound when playin WMP. So by installing windows 7, somehow now i must plug it in the GREEN audio panel for it to work.
If this doesnt work for you, try playin around...try the different colour audio panel you have on your pc.
NOTE* when i had it on "REAR SPEAKER OUT' my sound wouldnt work at all. So say my speaker is plugged to the green panel and i selected "Rear speaker out" my sound wouldnt work even if its plugged to the rear panel. it will only work if its plugged into the green panel and i selected 'Front speaker out" even though it wasnt in my front panel.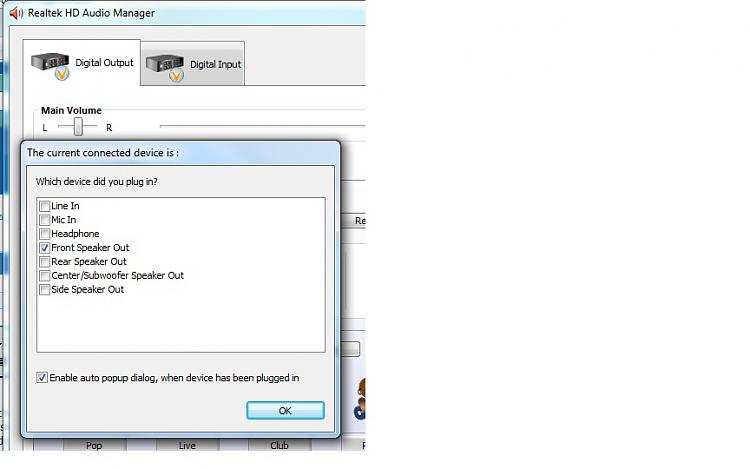 I also downloaded the latest driver from
Realtek
site
Im currently using the Vista, Windows7 Driver (32/64 bits) Driver only (ZIP file) R2.47
I downloaded the ZIP extension instead of the EXE
i tried almost every single driver version for realtek dating back to as early as vista 2.19 driver from real tek. i pretty much tried everything that has been posted here and none of the theories work, i was going give up and reinstall XP again.
hope this is the solutions for some of you people out there