If you're a serious music fan who listens to music on your PC, this is definitely a card to get! At around $200 bucks it isn't cheap; but for those 200 bones you get an audiophile grade card with
replaceable OP amps
, a whopping 124DB signal to noise ratio, and a built in 600 ohm headphone amp for high end headphones.
YouTube clip added for box contents and tech info. Clip is 18 minutes.
Performance/Sound
….. Listening to
Alex Clare's Tightrope
, on his CD, The Lateness of The Hour reveals clean deep sounding base notes not heard on my previous card which I reviewed here (
review on the X-Fi Titanium
). I'll also state this is a strong card that'll get your neighbors up in arms if you like your base. It also doesn't require a lot of input to push out the volume. In short, it's louder and cleaner than the Titanium at the same volume; No doubt helped out by it's 126DB signal to noise ratio.
Pop in a Jazz album like
Hiromi's Move
, which is a three piece band featuring Anthony Jackson on Bass, Simon Phillips on drums, and Hiromi on keys and suddenly feel like you're in the studio watching them play. The Piano is bright, the bass tight, the drums and cymbals clean and clear. In short, the instruments sound like they should, and this is on flat setting using the EQ. I also noticed the bass notes seemed to extend on this card compared to my X-Fi Titanium Pro.
Headphones
…. As I noted, this card features a 600 ohm headphone amp which you can enable/disable through the supplied software suit. The amp is used for high end headphone's requiring a 600 ohm impedance. Be aware though that turning this on with headphones not designed for 600 ohms can damage the phones as it'll basically overdrive the phones.
With that, both my
Audio-Technica ATH-M50S
and my
Bose Quiet Comfort 15
headphones don't require the amp, yet the sound is loud, clean and clear with no hint of distortion. All this at a flat EQ.
Gaming
…. To be honest, I've not noticed any game performance increase, or decrease for that matter, so I can't say what it contribute to gaming per se. However the
software
package does feature an option called scout mode where the technology allows you to "better hear your enemies". Have I noticed a difference here, or on gaming's overall performance…? I'd be lying if I said yeah; I'm more and musical audio buff so that's where my concentration lays.
Misses...
Not an issue for me but if you want/need 7.1 audio this card only does 5.1
Front header connections are a no-show here as well. Creative justifies it by saying you get cleaner sound using the supplied Audio Control Module (ACM) as opposed to the case's front headers.
What I hate!
The fact that you have to go through the software to switch between listening to your headphones or speakers. There is NO auto switching like there was in the older X-Fi software! Yes, you can still use headphones and have the speakers playing at the same time, but I'd like the speakers muted when plugging in my headphones.
Ironically, my new motherboard (
Gigabyte G1 Sniper 5
) features the
same type soundcard
and tech used on the ZXR, including replaceable op-amps, and the nearly identical Creative software package, however it DOES allow auto switching. C'mon creative and add this feature to the ZXR cards.
BTW here's a look at the similiar packages between Creative and the one used for the Gigabyte Sniper 5 board...
Creative's ZXR Control Panel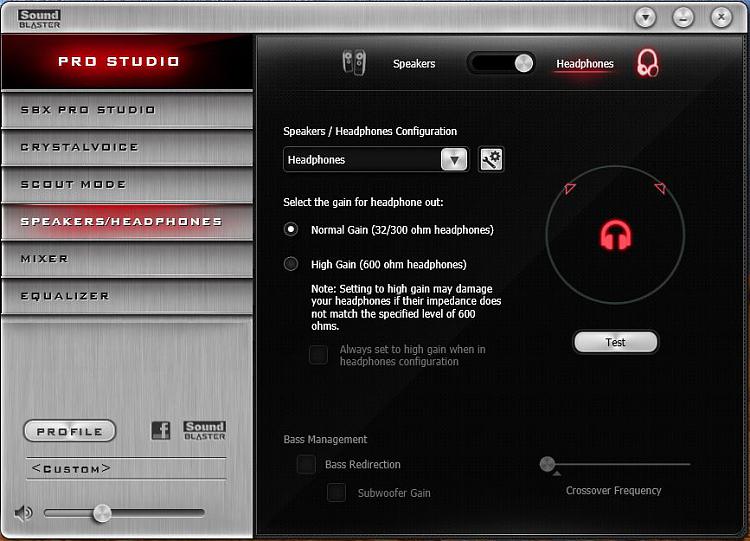 Gigabyte's Recon 3D Control Panel
Also note that I'm the ZXR on the gigabyte board instead of the integrated Recon itself. And that a quick preliminary test shows the ZXR to produce a better sound quality. The Recon sounds a bit harsh.
I'm now using Windows 8.1 and thus far no issues as reported elsewhere due to "proper" Windows 8.1 drivers not being available. Thus I'm currently using the latest Window 8 drivers posted on Creative's site.
Bottom line on the ZXR... impressive and well worth the 200 buck asking price.
My two cents.