Thanks, Oscer and Steve :), for your input and thoughts.
First of all, I cannot rollback my Sound drivers,( tried that one) is greyed out because they are my original drivers.
I have tried everything to upgrade them, but Windows(M$ ) keeps putting the same once back.
Now only Yesterday, I found a link tutorial of Rink about overruling this by changing settings and have put a shortcut on my desktop " Device installation settings ".
Been to Dell for updates in devices, they suggest a slightly newer audio HD device now. Have not done that jet.
Myself I have downloaded new Realtek stuff and it is on the list now of Programs and features in Device Manager, but my laptop ignores it

.
Steve, I am sure there are only 2 sound outlets, booth on the left side of my PC, one is for headphones -which I am using all the time now - and one is for a speaker ( I think ). The one I use works when I plug in my speakers, the other one does not.
Here is the bit about it in my manual for this model Dell Inspiron M 501R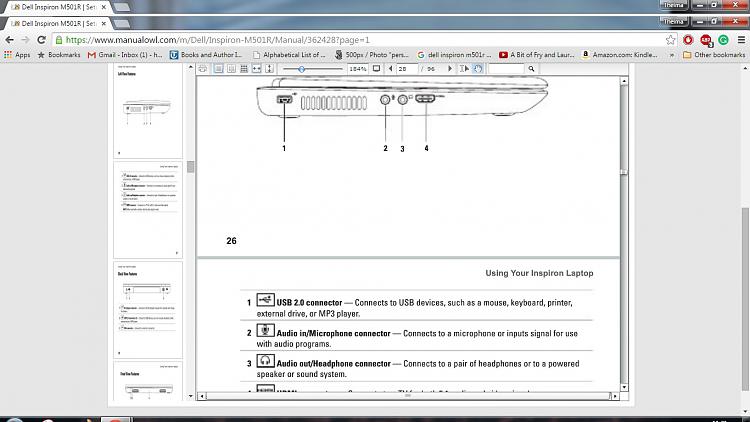 Will now study the rest of the info you 2 provided, thanks again for this,it is all very interesting and I keep learning and still hope for sound, but most off all, to 100% sure find out, this problem is not caused by something stupid I have changed ( settings) in the past