I have moved from the other thread " Disabling headphone Jack Detection", ( because it was a dead end ), to this one, also in Sound & Audio.
This because I have found evidence of failure happening around the date ( 23/05/2015 ) my sound from my internal speakers packed it in.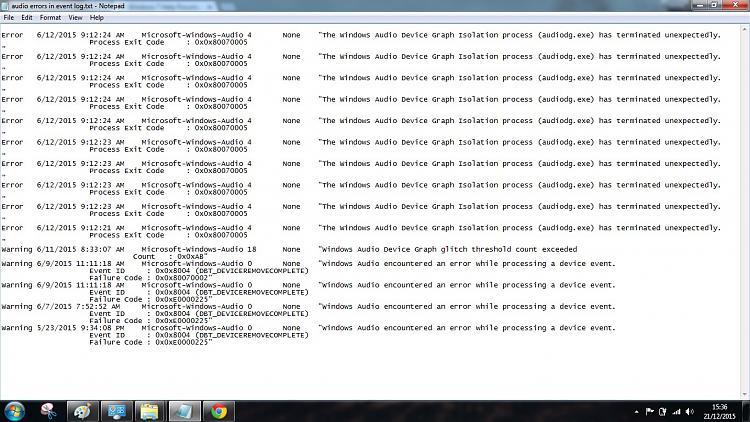 This is caused by a mistake in the " Audiodg.exe ", which lives in " c:\Windows\System32\audiodg.exe."
Windows Audio Device Graph Isolation process ( audiodg.exe ) has terminated unexpectedly.
Process Exit code : 0x0x80070005.
Audiodg Termination code 2147942405.
Audiodg.exe handles Digital Signal Processing and Digital Rights management.
the svc host cannot do it.
Incorrectly designed application that uses the audio system incorrectly, or a defect in Windows.
NON MY WORDS.
Has to do with sound cards, or as the PC here is a Laptop audio processor.
The audiodg.exe properties show that it was created on 27/5/2015 and modified on 03/02/2015 Microsoft Application.
My laptop is dated end 2010 so there should be an older version to roll back to, but I don't get that option.
This is uptill now, all the info I have managed to get together.
Will now look for solutions ( delete, uninstall find new file version somewhere ?
DELL, Microsoft, Windows 7 forums .....................