Ok, my adventure over the last hour.
I ran the suggested SB XFI 2.0 upgrade. As it ran, I was encouraged - it would report that each module it detected was older and if I wanted to replace with newer. Here's an example:
it finished normally and suggested a reboot. After the reboot nothing seemed different, so I went to controlpanel/sound, but was crestfallen to find that the "what-u-hear" was gone!
I did a few half-hearted tests but clearly this was a step backward. The driver for the card was older than the one I had been using - but - had the same version number!?!
So, I braced myself and hit the "Roll Back Driver" button. Win7 seemed unhappy - lots of "not responding" headers on windows title bars, but after about 10 minutes of chugging, the process reported subccess and the driver was back to the previous version:
It wanted another reboot, so I let it.
When it came up I was again excited - Creative auto-update screens I had never seen! With anticipation I stepped through them, but it was just another tease ...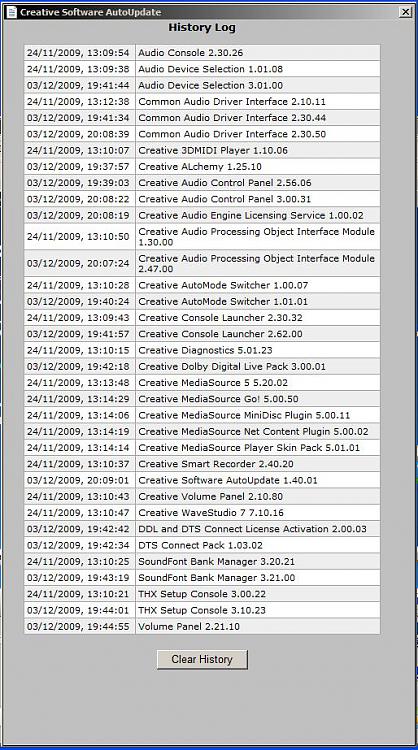 <sigh>
But, at least the unfunctional "what-u-hear option was back, albeit not-working, as before.
That Striker 7.1 seems more tempting every day. Just can't afford to buy it right now.
I'm going to try some of that software torrentg suggested. At the present moment I'm trying to convert my new 50 CDs of "Atlas Shrugged" into 50 huge .mp3s.

Although I can easily rip the CDs , Roxio creates a separate .mp3 for each track, and I don't want to have to stitch together 24 .mp3s into one , times 50 CDs. I thought I could just play the CD while having Audacity record it (that was the idea a week ago, I want to draw another card and see if I get it to work).
Of course, I could just boot into XP and the darn SB0770 would work fine.

<sigh again>
Raargh
Raargh