Wow... just recently I had finally gotten
rid of a problem
with the help of some of the guys here, koudos for that, that now just 3 hours ago I got infected by a very malicious virus called smart HDD. I manage to get it out of my computer.. at least I think so, avast, malwarebytes and spybot search and destroy doesn't find it on it anymore. But it left my windows installation a mess.
Just to be on the safe side, when I noticed I was infected and ran my first virus scan which had to get me rebooted and I lost the option to boot into my os's I decided to unhook all the other hdd's and do a repair system on the main OS. That worked and I was then able to fool the virus by going through the run search to find my firefox and download malwarebytes. Don't know why I didn't have it on since I'm a life time owner of the program.. anyways. Got it to run, ran an other scan of avast, and got the virus out.
Still since then, all my data is still being hidden by the false partition that has been created by the virus, although both MB and Avast ran the scans and found the data to be where it should be. It seems that the virus somehow fooled windows 7 to think the data is in a corrupted partition which it's not.
As you can see from the following pictures, it's as if my OS isn't seeing 99% of the files, strangely it still does see gimp, and some of the Microsoft office 2007 tools.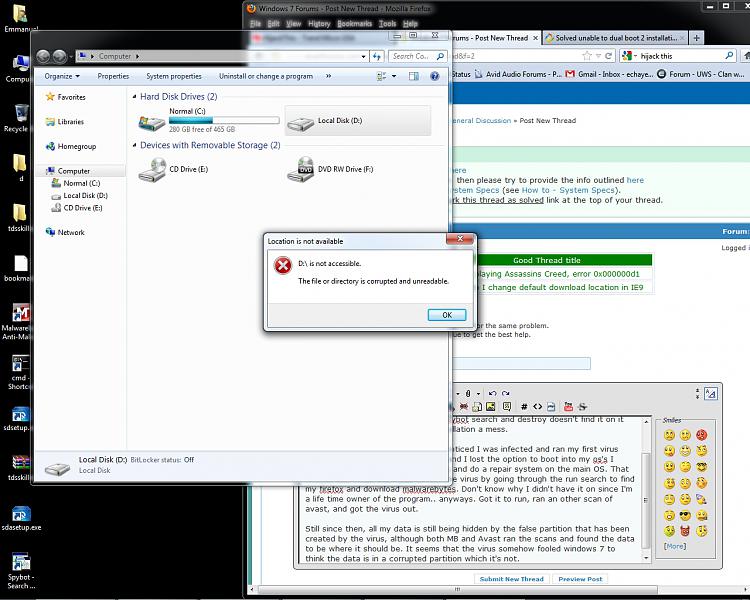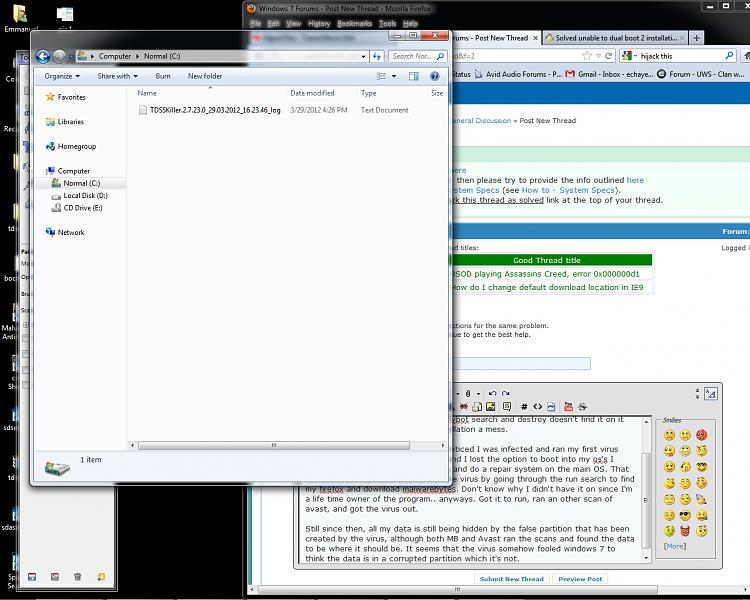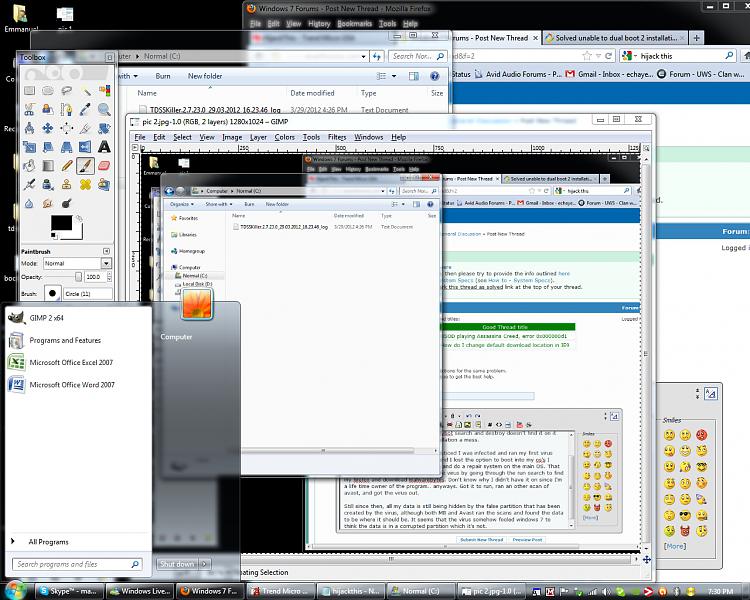 here's the diskmgmt.msc
I'm including a hijackthis log in the hopes that some of you will be able to help me get windows back in working order without doing a reformat.
Code:
Logfile of Trend Micro HijackThis v2.0.4
Scan saved at 7:19:49 PM, on 3/29/2012
Platform: Windows 7 SP1 (WinNT 6.00.3505)
MSIE: Internet Explorer v9.00 (9.00.8112.16421)
Boot mode: Normal

Running processes:
C:\Program Files (x86)\Windows Live\Messenger\msnmsgr.exe
C:\Program Files (x86)\Skype\Phone\Skype.exe
C:\Program Files (x86)\Renesas Electronics\USB 3.0 Host Controller Driver\Application\nusb3mon.exe
C:\Program Files (x86)\DeviceVM\Browser Configuration Utility\BCU.exe
C:\Windows\SysWOW64\MAFWTray.exe
C:\Program Files\AVAST Software\Avast\AvastUI.exe
C:\Program Files (x86)\PowerISO\PWRISOVM.EXE
C:\Program Files (x86)\Common Files\Java\Java Update\jusched.exe
C:\Program Files (x86)\Malwarebytes' Anti-Malware\mbamgui.exe
C:\Program Files (x86)\Windows Live\Contacts\wlcomm.exe
C:\Program Files (x86)\Spybot - Search & Destroy\TeaTimer.exe
C:\Program Files (x86)\Mozilla Firefox\firefox.exe
C:\Program Files (x86)\Mozilla Firefox\plugin-container.exe
C:\Users\Emmanuel\Downloads\HijackThis.exe

R1 - HKCU\Software\Microsoft\Internet Explorer\Main,Search Page = http://go.microsoft.com/fwlink/?LinkId=54896
R0 - HKCU\Software\Microsoft\Internet Explorer\Main,Start Page = http://go.microsoft.com/fwlink/?LinkId=69157
R1 - HKLM\Software\Microsoft\Internet Explorer\Main,Default_Page_URL = http://go.microsoft.com/fwlink/?LinkId=69157
R1 - HKLM\Software\Microsoft\Internet Explorer\Main,Default_Search_URL = http://go.microsoft.com/fwlink/?LinkId=54896
R1 - HKLM\Software\Microsoft\Internet Explorer\Main,Search Page = http://go.microsoft.com/fwlink/?LinkId=54896
R0 - HKLM\Software\Microsoft\Internet Explorer\Main,Start Page = http://go.microsoft.com/fwlink/?LinkId=69157
R0 - HKLM\Software\Microsoft\Internet Explorer\Search,SearchAssistant = 
R0 - HKLM\Software\Microsoft\Internet Explorer\Search,CustomizeSearch = 
R0 - HKLM\Software\Microsoft\Internet Explorer\Main,Local Page = C:\Windows\SysWOW64\blank.htm
R0 - HKCU\Software\Microsoft\Internet Explorer\Toolbar,LinksFolderName = 
R3 - URLSearchHook: SearchHook Class - {BC86E1AB-EDA5-4059-938F-CE307B0C6F0A} - C:\Program Files (x86)\DeviceVM\Browser Configuration Utility\AddressBarSearch.dll
F2 - REG:system.ini: UserInit=userinit.exe,
O2 - BHO: AcroIEHelperStub - {18DF081C-E8AD-4283-A596-FA578C2EBDC3} - C:\Program Files (x86)\Common Files\Adobe\Acrobat\ActiveX\AcroIEHelperShim.dll
O2 - BHO: Spybot-S&D IE Protection - {53707962-6F74-2D53-2644-206D7942484F} - C:\Program Files (x86)\Spybot - Search & Destroy\SDHelper.dll
O2 - BHO: Groove GFS Browser Helper - {72853161-30C5-4D22-B7F9-0BBC1D38A37E} - C:\Program Files (x86)\Microsoft Office\Office12\GrooveShellExtensions.dll
O2 - BHO: IESpeakDoc - {8D10F6C4-0E01-4BD4-8601-11AC1FDF8126} - C:\Program Files (x86)\Bluetooth Suite\IEPlugIn.dll
O2 - BHO: avast! WebRep - {8E5E2654-AD2D-48bf-AC2D-D17F00898D06} - C:\Program Files\AVAST Software\Avast\aswWebRepIE.dll
O2 - BHO: Windows Live ID Sign-in Helper - {9030D464-4C02-4ABF-8ECC-5164760863C6} - C:\Program Files (x86)\Common Files\Microsoft Shared\Windows Live\WindowsLiveLogin.dll
O2 - BHO: SkypeIEPluginBHO - {AE805869-2E5C-4ED4-8F7B-F1F7851A4497} - C:\Program Files (x86)\Skype\Toolbars\Internet Explorer\skypeieplugin.dll
O2 - BHO: Java(tm) Plug-In 2 SSV Helper - {DBC80044-A445-435b-BC74-9C25C1C588A9} - C:\Program Files (x86)\Java\jre6\bin\jp2ssv.dll
O3 - Toolbar: avast! WebRep - {8E5E2654-AD2D-48bf-AC2D-D17F00898D06} - C:\Program Files\AVAST Software\Avast\aswWebRepIE.dll
O4 - HKLM\..\Run: [NUSB3MON] "C:\Program Files (x86)\Renesas Electronics\USB 3.0 Host Controller Driver\Application\nusb3mon.exe"
O4 - HKLM\..\Run: [JMB36X IDE Setup] C:\Windows\RaidTool\xInsIDE.exe
O4 - HKLM\..\Run: [BCU] "C:\Program Files (x86)\DeviceVM\Browser Configuration Utility\BCU.exe"
O4 - HKLM\..\Run: [Adobe ARM] "C:\Program Files (x86)\Common Files\Adobe\ARM\1.0\AdobeARM.exe"
O4 - HKLM\..\Run: [M-Audio Taskbar Icon] C:\Windows\system32\MAFWTray.exe
O4 - HKLM\..\Run: [avast] "C:\Program Files\AVAST Software\Avast\avastUI.exe" /nogui
O4 - HKLM\..\Run: [LifeCam] "C:\Program Files (x86)\Microsoft LifeCam\LifeExp.exe"
O4 - HKLM\..\Run: [PWRISOVM.EXE] C:\Program Files (x86)\PowerISO\PWRISOVM.EXE
O4 - HKLM\..\Run: [GrooveMonitor] "C:\Program Files (x86)\Microsoft Office\Office12\GrooveMonitor.exe"
O4 - HKLM\..\Run: [SunJavaUpdateSched] "C:\Program Files (x86)\Common Files\Java\Java Update\jusched.exe"
O4 - HKLM\..\Run: [APSDaemon] "C:\Program Files (x86)\Common Files\Apple\Apple Application Support\APSDaemon.exe"
O4 - HKLM\..\Run: [QuickTime Task] "C:\Program Files (x86)\QuickTime\QTTask.exe" -atboottime
O4 - HKLM\..\Run: [Malwarebytes' Anti-Malware] "C:\Program Files (x86)\Malwarebytes' Anti-Malware\mbamgui.exe" /starttray
O4 - HKCU\..\Run: [msnmsgr] "C:\Program Files (x86)\Windows Live\Messenger\msnmsgr.exe" /background
O4 - HKCU\..\Run: [Skype] "C:\Program Files (x86)\Skype\Phone\Skype.exe" /minimized /regrun
O4 - HKCU\..\Run: [SpybotSD TeaTimer] C:\Program Files (x86)\Spybot - Search & Destroy\TeaTimer.exe
O4 - HKUS\S-1-5-19\..\Run: [Sidebar] %ProgramFiles%\Windows Sidebar\Sidebar.exe /autoRun (User 'LOCAL SERVICE')
O4 - HKUS\S-1-5-19\..\RunOnce: [mctadmin] C:\Windows\System32\mctadmin.exe (User 'LOCAL SERVICE')
O4 - HKUS\S-1-5-20\..\Run: [Sidebar] %ProgramFiles%\Windows Sidebar\Sidebar.exe /autoRun (User 'NETWORK SERVICE')
O4 - HKUS\S-1-5-20\..\RunOnce: [mctadmin] C:\Windows\System32\mctadmin.exe (User 'NETWORK SERVICE')
O8 - Extra context menu item: E&xport to Microsoft Excel - res://C:\PROGRA~2\MICROS~3\Office12\EXCEL.EXE/3000
O9 - Extra button: Send to OneNote - {2670000A-7350-4f3c-8081-5663EE0C6C49} - C:\PROGRA~2\MICROS~3\Office12\ONBttnIE.dll
O9 - Extra 'Tools' menuitem: S&end to OneNote - {2670000A-7350-4f3c-8081-5663EE0C6C49} - C:\PROGRA~2\MICROS~3\Office12\ONBttnIE.dll
O9 - Extra button: (no name) - {7815BE26-237D-41A8-A98F-F7BD75F71086} - C:\Program Files (x86)\Bluetooth Suite\IEPlugIn.dll
O9 - Extra 'Tools' menuitem: Send by Bluetooth to - {7815BE26-237D-41A8-A98F-F7BD75F71086} - C:\Program Files (x86)\Bluetooth Suite\IEPlugIn.dll
O9 - Extra button: Skype Click to Call - {898EA8C8-E7FF-479B-8935-AEC46303B9E5} - C:\Program Files (x86)\Skype\Toolbars\Internet Explorer\skypeieplugin.dll
O9 - Extra 'Tools' menuitem: Skype Click to Call - {898EA8C8-E7FF-479B-8935-AEC46303B9E5} - C:\Program Files (x86)\Skype\Toolbars\Internet Explorer\skypeieplugin.dll
O9 - Extra button: Research - {92780B25-18CC-41C8-B9BE-3C9C571A8263} - C:\PROGRA~2\MICROS~3\Office12\REFIEBAR.DLL
O9 - Extra button: (no name) - {DFB852A3-47F8-48C4-A200-58CAB36FD2A2} - C:\Program Files (x86)\Spybot - Search & Destroy\SDHelper.dll
O9 - Extra 'Tools' menuitem: Spybot - Search && Destroy Configuration - {DFB852A3-47F8-48C4-A200-58CAB36FD2A2} - C:\Program Files (x86)\Spybot - Search & Destroy\SDHelper.dll
O11 - Options group: [ACCELERATED_GRAPHICS] Accelerated graphics
O16 - DPF: {D27CDB6E-AE6D-11CF-96B8-444553540000} (Shockwave Flash Object) - http://fpdownload2.macromedia.com/pub/shockwave/cabs/flash/swflash.cab
O18 - Protocol: grooveLocalGWS - {88FED34C-F0CA-4636-A375-3CB6248B04CD} - C:\Program Files (x86)\Microsoft Office\Office12\GrooveSystemServices.dll
O18 - Protocol: skype-ie-addon-data - {91774881-D725-4E58-B298-07617B9B86A8} - C:\Program Files (x86)\Skype\Toolbars\Internet Explorer\skypeieplugin.dll
O18 - Protocol: skype4com - {FFC8B962-9B40-4DFF-9458-1830C7DD7F5D} - C:\PROGRA~2\COMMON~1\Skype\SKYPE4~1.DLL
O23 - Service: Adobe Acrobat Update Service (AdobeARMservice) - Adobe Systems Incorporated - C:\Program Files (x86)\Common Files\Adobe\ARM\1.0\armsvc.exe
O23 - Service: @%SystemRoot%\system32\Alg.exe,-112 (ALG) - Unknown owner - C:\Windows\System32\alg.exe (file missing)
O23 - Service: ASP.NET State Service (aspnet_state) - Unknown owner - C:\Windows\Microsoft.NET\Framework\v2.0.50727\aspnet_state.exe (file missing)
O23 - Service: AtherosSvc - Atheros Commnucations - C:\Program Files (x86)\Bluetooth Suite\adminservice.exe
O23 - Service: avast! Antivirus - AVAST Software - C:\Program Files\AVAST Software\Avast\AvastSvc.exe
O23 - Service: Browser Configuration Utility Service (BCUService) - DeviceVM, Inc. - C:\Program Files (x86)\DeviceVM\Browser Configuration Utility\BCUService.exe
O23 - Service: @%SystemRoot%\system32\efssvc.dll,-100 (EFS) - Unknown owner - C:\Windows\System32\lsass.exe (file missing)
O23 - Service: @%systemroot%\system32\fxsresm.dll,-118 (Fax) - Unknown owner - C:\Windows\system32\fxssvc.exe (file missing)
O23 - Service: Intel® PROSet Monitoring Service - Unknown owner - C:\Windows\system32\IProsetMonitor.exe (file missing)
O23 - Service: @keyiso.dll,-100 (KeyIso) - Unknown owner - C:\Windows\system32\lsass.exe (file missing)
O23 - Service: MacDrive 8 service for Digidesign (MacDrive8ServiceD) - Mediafour Corporation - C:\Program Files\Mediafour\MacDrive 8\MacDrive8ServiceD.exe
O23 - Service: MBAMService - Malwarebytes Corporation - C:\Program Files (x86)\Malwarebytes' Anti-Malware\mbamservice.exe
O23 - Service: @comres.dll,-2797 (MSDTC) - Unknown owner - C:\Windows\System32\msdtc.exe (file missing)
O23 - Service: @%SystemRoot%\System32\netlogon.dll,-102 (Netlogon) - Unknown owner - C:\Windows\system32\lsass.exe (file missing)
O23 - Service: NVIDIA Display Driver Service (nvsvc) - Unknown owner - C:\Windows\system32\nvvsvc.exe (file missing)
O23 - Service: NVIDIA Update Service Daemon (nvUpdatusService) - NVIDIA Corporation - C:\Program Files (x86)\NVIDIA Corporation\NVIDIA Update Core\daemonu.exe
O23 - Service: PACE License Services (PaceLicenseDServices) - PACE Anti-Piracy, Inc. - C:\Program Files (x86)\Common Files\PACE\Services\LicenseServices\LDSvc.exe
O23 - Service: @%systemroot%\system32\psbase.dll,-300 (ProtectedStorage) - Unknown owner - C:\Windows\system32\lsass.exe (file missing)
O23 - Service: @%systemroot%\system32\Locator.exe,-2 (RpcLocator) - Unknown owner - C:\Windows\system32\locator.exe (file missing)
O23 - Service: @%SystemRoot%\system32\samsrv.dll,-1 (SamSs) - Unknown owner - C:\Windows\system32\lsass.exe (file missing)
O23 - Service: SBSD Security Center Service (SBSDWSCService) - Safer Networking Ltd. - C:\Program Files (x86)\Spybot - Search & Destroy\SDWinSec.exe
O23 - Service: Skype Updater (SkypeUpdate) - Skype Technologies - C:\Program Files (x86)\Skype\Updater\Updater.exe
O23 - Service: @%SystemRoot%\system32\snmptrap.exe,-3 (SNMPTRAP) - Unknown owner - C:\Windows\System32\snmptrap.exe (file missing)
O23 - Service: @%systemroot%\system32\spoolsv.exe,-1 (Spooler) - Unknown owner - C:\Windows\System32\spoolsv.exe (file missing)
O23 - Service: @%SystemRoot%\system32\sppsvc.exe,-101 (sppsvc) - Unknown owner - C:\Windows\system32\sppsvc.exe (file missing)
O23 - Service: Steam Client Service - Valve Corporation - C:\Program Files (x86)\Common Files\Steam\SteamService.exe
O23 - Service: NVIDIA Stereoscopic 3D Driver Service (Stereo Service) - NVIDIA Corporation - C:\Program Files (x86)\NVIDIA Corporation\3D Vision\nvSCPAPISvr.exe
O23 - Service: @%SystemRoot%\system32\ui0detect.exe,-101 (UI0Detect) - Unknown owner - C:\Windows\system32\UI0Detect.exe (file missing)
O23 - Service: @%SystemRoot%\system32\vaultsvc.dll,-1003 (VaultSvc) - Unknown owner - C:\Windows\system32\lsass.exe (file missing)
O23 - Service: @%SystemRoot%\system32\vds.exe,-100 (vds) - Unknown owner - C:\Windows\System32\vds.exe (file missing)
O23 - Service: @%systemroot%\system32\vssvc.exe,-102 (VSS) - Unknown owner - C:\Windows\system32\vssvc.exe (file missing)
O23 - Service: @%SystemRoot%\system32\Wat\WatUX.exe,-601 (WatAdminSvc) - Unknown owner - C:\Windows\system32\Wat\WatAdminSvc.exe (file missing)
O23 - Service: @%systemroot%\system32\wbengine.exe,-104 (wbengine) - Unknown owner - C:\Windows\system32\wbengine.exe (file missing)
O23 - Service: @%Systemroot%\system32\wbem\wmiapsrv.exe,-110 (wmiApSrv) - Unknown owner - C:\Windows\system32\wbem\WmiApSrv.exe (file missing)
O23 - Service: @%PROGRAMFILES%\Windows Media Player\wmpnetwk.exe,-101 (WMPNetworkSvc) - Unknown owner - C:\Program Files (x86)\Windows Media Player\wmpnetwk.exe (file missing)

--
End of file - 12200 bytes
hijackthis.log