Note
I've not seen this for some time but it seems to be doing the rounds again so I thought i'd give everyone a heads up.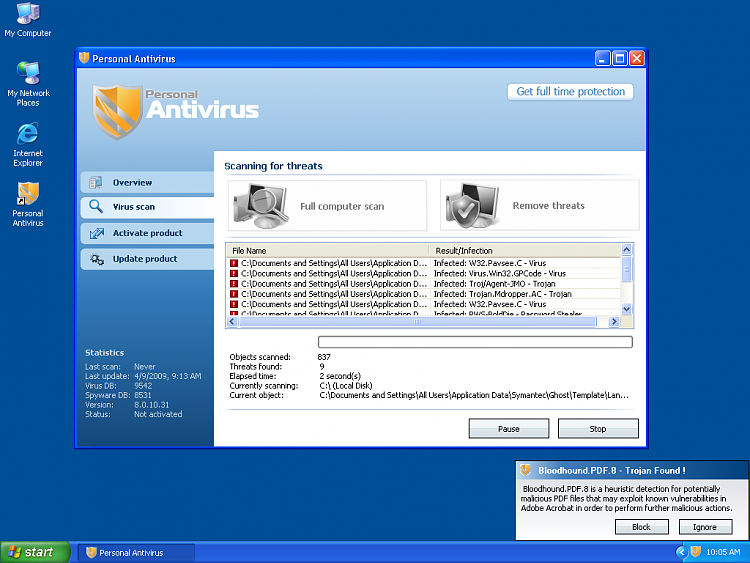 Quote:
Personal Antivirus, or PersonalAntivirus, is a rogue anti-spyware program to come out from the company called Innovagest 2000.
Personal Antivirus is installed by a trojan called
Zlob
, which attempts to trick you into buying the alleged rogue anti-spyware program. Once you're infected with Zlob, a fake security message similar to a Windows notification pops up saying your PC is infected with malware. This Personal Antivirus message is used to lure you into purchasing, downloading and installing their program to remove the imaginary spyware.
Personal Antivirus may also automatically launch at your computer's startup and scan your computer. Personal Antivirus may be difficult to remove manually, and will continue to try to recreate itself. Personal Antivirus is a clone of
Internet Antivirus Pro
and
General Antivirus
, which are other corrupt distributed programs. Personal Antivirus should not be trusted and is recommended to be removed.
I have come across 4 machines over the last week that have been infected by this
rediculously annoying
'antivirus' software.
Step by step removal:
I have found that advanced removal is the best method for this app.
1, You will need to end the PAV.EXE process in taskmanager. Right-click the taskbar and click 'Task Manager' then the 'Processes' tab. Next, find and right-click the PAV.EXE entry and select 'End Process Tree'. This will kill the process.
2, Delete the following folders from your computer
c:\program files\PersonalAV
c:\program files\Common Files\Uninstall\PersonalAV
c:\windows\tasks\PersonalAV
3, Run 'regedit' from the start menu and do a search for 'PersonalAV' and delete
every entry
found.

Tip
It's best to run a second full search once the first has finished
Once all trace of the app has been removed you should re-boot your machine and you will find that the annoying tray notification applet has gone & all processes for PAV.EXE have been eliminated.