Quote:
after that I took my computer to my tech (because I could not get the wireless going). he replaced the wireless card.
I am not sure if he did another clean install or not. he might have.

anyway, with all of that said, do you think that I still have a rootkit on my computer?
If you're absolutely sure that your computer was not infected AFTER you did the clean install it should be OK. If there's any chance you picked up any kind of malware and if you're absolutely sure your tech didn't accidentally get malware on your machine ... well, if there's any doubt in your mind another clean install might be warranted.
Without getting overly technical, a system image relies on a special program. That special program is what males a copy of the hard drive and lets you save it to another location. Most people recommend an external hard drive that connects to your computer with a USB cable. That external HD can be kept in a secure location until it's needed again. (Other people might say you can use CDs or DVDs and they'd be correct. But let's say you have just 20 gigabytes of data that you need to image. You'd need about 25 CDs or 5 DVDs to make the image. Way too many to guarantee that each CD or DVD will be correctly burned, not to mention the cost. That's why an external hard drive is the better choice.)
Windows 7 has its own special system image program already available. If you click the Start button and type
backup
in the search box you should see
Backup your computer
in the upper panel. If you click on that a new screen opens that looks like this: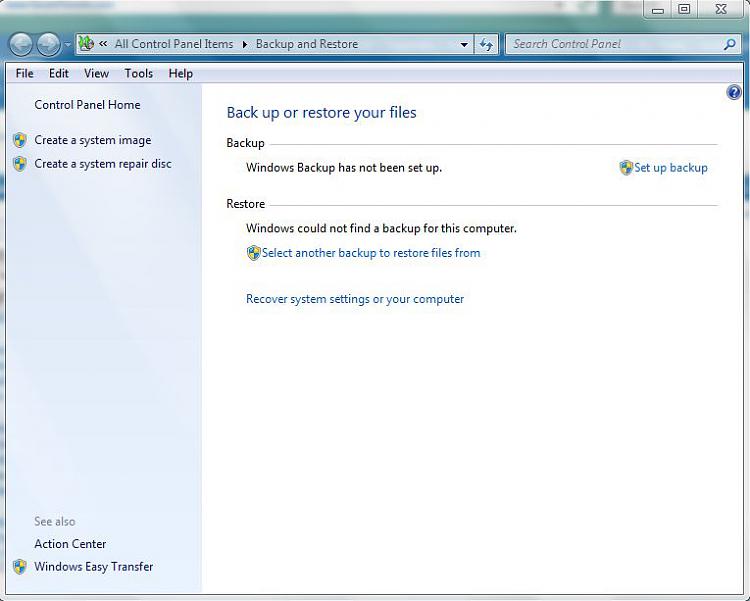 In the left column you can select Create A System Image or Create a System Repair Disc. Again, the image is like a snapshot of your entire hard drive. The repair disc is a special CD/DVD/Flash drive that
you
can make that will allow you to boot your computer if Windows 7 ever crashes and you can't start the computer normally. It's a good idea to make this disc, especially if you don't have an installation DVD. Even if you do have the installation disc what if it gets lost or damaged? The repair disc is cheap insurance.
Before you make your system image you'll want the external hard drive plugged in to your computer. When you click on
Create a system image
your computer will automatically search for the external hard drive. When it's found you will be asked if you want to continue making the image. If you say yes you will then be told how much space will be used on the external hard drive. If you still want to continue the system image will be created with nothing else required of you. Sit back, have a beverage of choice, and in about 30 minutes (maybe a bit longer depending on how many gigabytes of stuff is being copied) you'll have your brand new system image on the external hard drive.
For more technically advanced users there are other options available and other specialized programs that can be installed to make the system image. But for average users the Windows 7 imaging program is more than sufficient. Hope this quick imaging lesson encourages you to protect your computer