omegatx
,
Vipre
is recognizing the following:
Trojan.HTML.Framer.do:
It exploits PDF or Flash vulnerabilities
Trojan.JS.Obfuscator.aa
May be hosted on a website and run when you access it.
Please download
CCleaner
:
CCleaner - Standard
Save to the Desktop.
Double-click the downloaded setup file to install.
On the program console, select
Options
>
Advanced
Uncheck:
Only delete files in Windows Temp folder older than 24 hours
Go back to:
Cleanup (left side)
Press:
Run Cleaner
A notice appears advising this process permanently deletes files...
Click:
OK
Exit when done scanning and cleaning the system.
~~~~
Next, download
Security Check
:
http://screen317.spywareinfoforum.org/SecurityCheck.exe
Save to the Desktop.
Double-click
SecurityCheck.exe
and follow the onscreen instructions (on the black screen).
When done, a
Notepad
document opens automatically:
checkup.txt
Please post the contents of checkup.txt in your reply.
~~~~
Please download
Emsisoft Anti-Malware Free edition 7.0.0.18
:
http://www.majorgeeks.com/Emsisoft_A...ion_d4281.html
Save to the Desktop.
Double-click on the a2FreeSetup.exe.cgzgic1 icon to install the program.
After the program is installed, you are asked the mode you wish to use Emsisoft Anti-Malware.
Click on:
Freeware mode
On the next prompt, uncheck:
Join the Anti-Malware Network
Update additional languages
Click:
Next
Update Emsisoft Anti-Malware.
When the updates are completed, click on:
Clean computer now
Emsisoft Anti-Malware starts to load its scanning engine and then displays a screen asking what type of scan you would like to perform: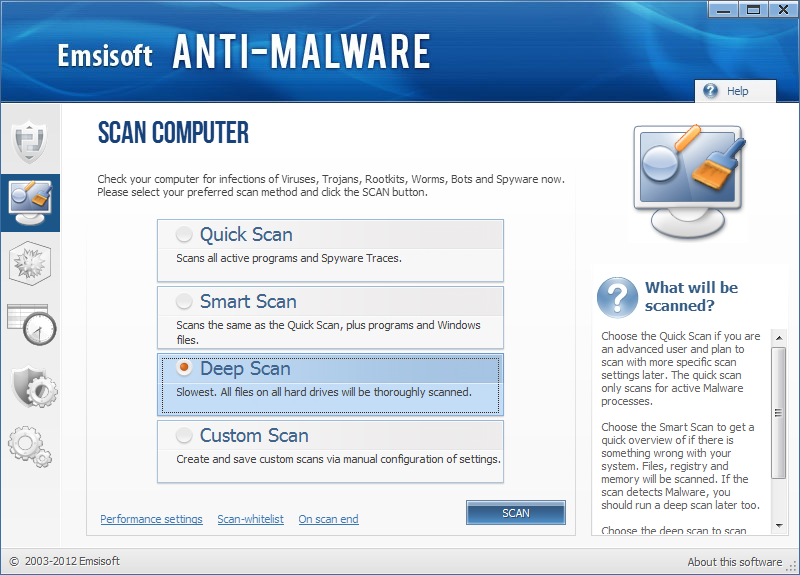 Please select:
Deep Scan
Click on the
Scan
button.
Emsisoft Anti-Malware now starts to scan your computer for rootkits and malware.
When the scan finishes, the program displays the scan results with any infections found.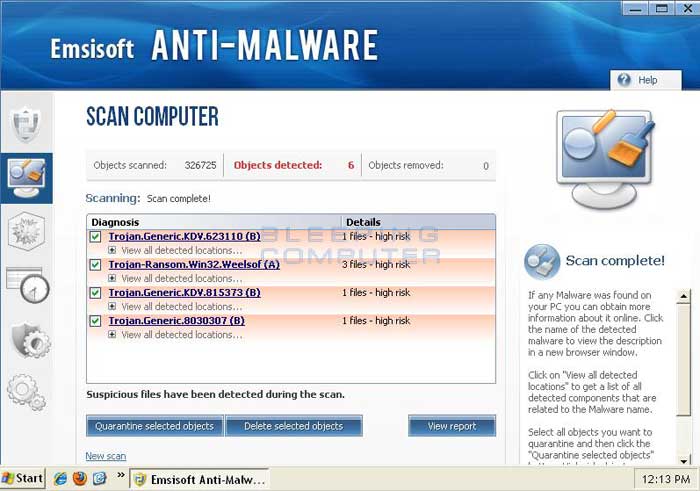 Click:
Quarantine selected objects (If the option is available)
(Please
do not
delete anything!)
Click:
View results
If Emsisoft prompts you to reboot your computer to finish the clean up process, please allow it to do so.
Please provide the Emisoft report in your reply..
~~~~
As this infection is known to be installed by vulnerabilities in out-dated and insecure programs,
it is strongly suggested that you use Secunia PSI to scan for vulnerable programs on your computer.
A tutorial on how to use Secunia PSI to scan for vulnerable programs can be found here:
http://www.bleepingcomputer.com/tuto...h-secunia-psi/
~~~~
Option: Use if
Emsisoft
does not run on your computer.
Download
Malwarebytes Anti-Malware
(MBAM):
Downloading Malwarebytes Anti-Malware
Save to the Desktop.
If you already installed MBAM, launch the program.
MBAM may make changes to the Registry as part of its disinfection routine.
If using other security programs that detect Registry changes, they may interfere or alert you. Permit the program to allow the changes, or, temporarily disable:
How To Temporarily Disable Your Anti-virus, Firewall And Anti-malware Programs - BleepingComputer.com
When MBAM starts, you are asked to
update
the program.
Press
OK
, and continue.
On the
Scanner
tab:
Select the
Perform Quick Scan
option.
Then click on the
Scan
button.
If asked to select the drives to scan, leave
all
the drives selected.
Next, click on the
Start Scan
button.
The scan may take some time to complete, so please be patient.
When finished, a message box shows:
The scan completed successfully. Click 'Show Results' to display all objects found.
Click
OK
to close the message box and continue with the removal process.
Back at the main
Scanner
screen:
Click on the
Show Results
button to see a list of any malware found.
Make sure everything is checked, and click:
Remove Selected
When removal is completed, a report opens in
Notepad
.
The log is also automatically saved and can be viewed by clicking the
Logs
tab.
Please provide the entire contents of the MBAM report in your reply.
Exit
MBAM
when done.
Note: If MBAM encounters a file that is difficult to remove, you are asked to reboot the computer so MBAM can proceed with the disinfection process. If asked to do this, please do so immediately. Failure to reboot normally (not into safe mode) prevents MBAM from removing all the malware.