Did you try
HitmanPro.Kickstart
, as follows, it does not request for you to go through the Command Prompt:
(You may want to print these instructions, so they are available to follow.)

Load a
USB flash drive
with
HitmanPro.Kickstart
as follows...
Note: the contents of the USB flash drive are
erased
during this process!
Use a clean (non-infected) computer, and
download
:
HitmanPro.Kickstart - Anti ransomware, politievirus, bundestrojaner, Reveton, BKA, GVU - SurfRight
Under Download (on the right) select the program applicable to the infected system: 64-bit or 32-bit
When HitmanPro opens, click the
KickStart
icon at the bottom of the screen.
Plug in the [I]USB flash drive.
When the USB flash drive is detected, a selection screen is presented.
Select the USB flash drive from the choices, and press:
Install Kickstart
A warning that all contents of the selected flash drive will erase is presented.
Press:
Yes
As the HitmanPro.Kickstart files are loaded, a progress indicator is shown on the screen.
Once the process is completed a screen is presented with the contents of HitmanPro.Kickstart

Remove the USB flash drive from the
clean
computer and press:
Close

Now, with the problem computer shut down, plug the USB flash drive into a USB port, and turn on the power.
When the computer starts, press the key that brings up the Boot Menu. (On some machines its F12, F10, or F2)
From there, select to boot from the USB drive. (It may say 'Removable Drive' in the options.)
Info:
How to Remove Ransomware - Select Real Security
Once you select the USB flash drive to boot from, press:
Enter
A
KickStart
prompt with USB boot options appears.
Select:
1
(Bypass the Master Boot Record (Default))
The system continues to boot from the hard drive and starts Windows.
If you get a message stating that Windows failed to start, etc., just select:
Start Windows Normally
When Windows boots, you either get a logon screen, or the Desktop is started.
If you see a logon screen with your User name, logon with it.
In the next prompt, to start the program without installing to the local hard disk, select the option to do
:
One-time scan to check the computer
To start scanning for malware press:
Next
If malware is detected, the program shows what malware is present on the system using a red framed screen as shown below: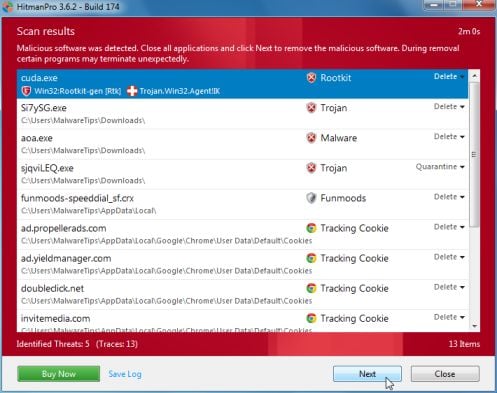 Select
Next
to quarantine the malware into a secure storage where it can no longer start.
At the next screen, activate the 30-day free license: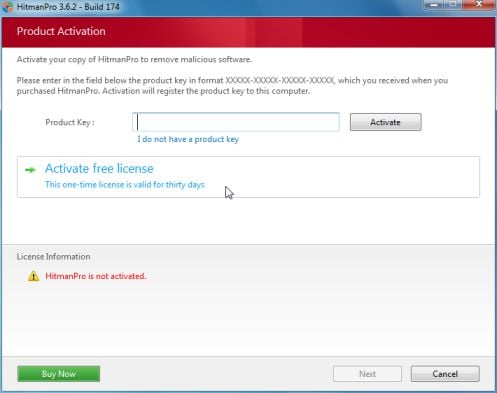 After successful activation (30 days), press:
Next
A screen indicating that the malware was successfully disabled or removed is presented.
Press:
Next
To obtain a report of the scan results, press:
Save log
Save the Notepad log!!
It has a name such as:
HitmanPro_xxxxxxxx_xxxx
Remove the USB drive, and press:
Reboot
If no malware is found, press:
Close
After
HitmanPro.Kickstart
is done, you should be back into normal Windows.

Please post the
HitmanPro log
in your reply.