Hi -
Thanks for all the advice. I created a restore point and went ahead with Adwcleaner cleanup. After the restart I scanned again. No change in IE or Chrome website loading issues - here is the Adwcleanerlog:
AdwCleaner[S1]_after clean.txt
The FLEX keys seem to have reinstalled themselves. I'm sure they were deleted but have come back. Googling them seems to show they are probably legit, but I have no idea what software they came with.
Here is the Chrome extensions page: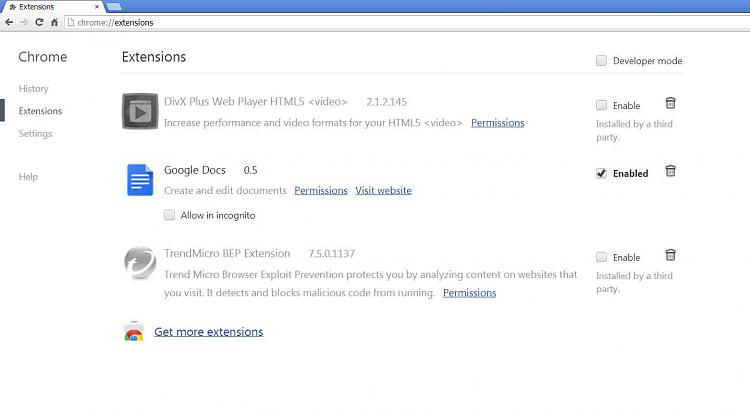 The Divx player is disabled but present. Otherwise Chrome is pretty much clear. I think Divx came in with Roxio Creator, a video editing package.
I will see if I can get some instructions on unloading the Divx extension just to settle this point.
I had a look at the hosts file - here is the text:
hosts_131214.txt
From what I've read, the hosts file looks as it should.
I will try the removal tools others have mentioned and uninstall the Divx player - any other ideas ? Could this be a network fault or configuration issue rather than a bit of malware ?
I have a windows virtual machine running with windows XP mode. I just use it to run excel2003 models and most of the time it is hibernated. Could there be some sort of interplay between W7 and the virtual machine that effects a browser in W7 - seems unlikely.
Simon