I while back tried to upgrade GOM player, which I noticed said it would install a certain program, or toolbar. No way to opt out that I could find, so after digging into the EULA, I found that it is a required that you install this item if you want to use the player.

Goodbye to GOM player.....

It's better to d/l the program directly from the manufacturers site. D/Ling it from another site, there's always the chance that site has added some PUP's of it's own.
Hi,
I've just installed GOM Media Player (for test purposes) and it comes bundled with OpenCandy. I managed to clean install it. Here's how if you're interested and would still like to install it.
Download the GOM installer but don't run it.
Restricting any desired application.
Go to following registry key:
(or create it and set it to 1 to enable)
HKEY_CURRENT_USER\Software\Microsoft\Windows\Current Version\Policies\Explorer\DisallowRun
Create new String value with any name, like 1 and set its value to the desired program's EXE file.
e.g., If you want to restrict msconfig, then create a String value 1 and set its value to msconfig.exe. If you want to restrict more programs, simply create more String values with names 2, 3 and so on and set their values to the program's exe file.
Don't actally use the msconfig example!
So for the OpenCandy installer that's bundled with GOM create three new strings values and rename them to the next three available numbers in the sequence. Then add the following executable names (one name for each of the strings):
mconduitinstaller.exe
ieLogic.exe
ExPromo.exe

Then exit RegEdit.
Log off/ on.
Run the GOM installer.
You see the following when OpenCandy Installer attempts to run:
It's blocked and GOM installs cleanly!
Also it's possible to make use of the following registry key to assign another program to run in place of any specified executable (but the above method takes priority if the executable is present under the DisallowRun key).
HKEY_LOCAL_MACHINE\SOFTWARE\Microsoft\Windows NT\CurrentVersion\Image File Execution Options
Just create a new subkey and give it he name of the executable you want to block. In the right pane create a new String with the Value Name "Debugger" (no quotes) then set the Value Data to the file path of the executable that you wish to run in it's place.
This second method blocks an executable no matter what method is used to launch it. (Conhost, Run as Admin, Elevated Command Prompt) and so on!
Screenshots for OpenCandy (block installation):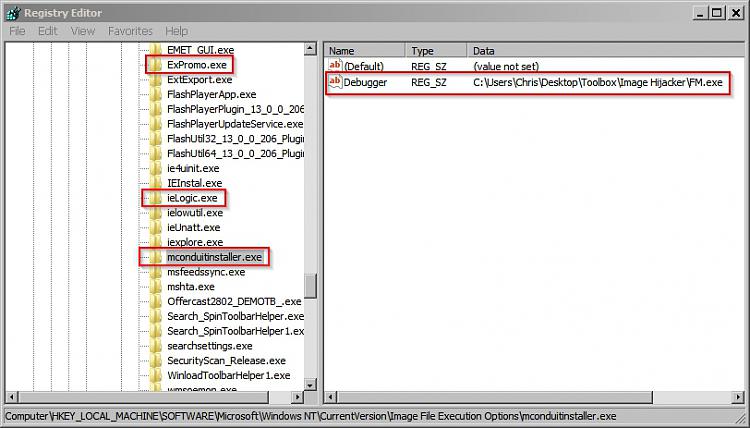 You'll notice the file path leads to FM.exe as the application to run in place of the installer. That's software that I've installed to display a user defined message as per this post:
Blocking Toolbar Installation
That software can be used to block OpenCandy installation (as a backup method to the first method):
Screenshots.