The otherday my wife inadvertently and without knowing the implications, downloaded some junk media players from some malicious site and my laptop got infected with some ransomware called one care (nothing to do with Windows Live one care) and hundreds of PUPs.(as seen in Revo Uninstaller Pro.)
I uninstalled the ransomware and then ran MBAM which removed all the PUPs ( some hundreds)
Now Revo Uninstaller seems to be stuck with one program icon Web Bar. To me it appears that the program got uninstalled completely.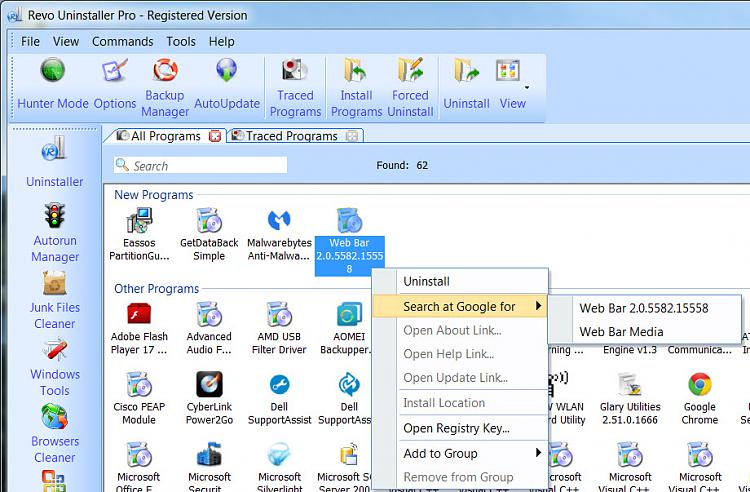 Web Bar does not appear in "Uninstall or change a Program" .CCleaner also does not show it. Trying to uninstall it with Revo Uninstaller gives the message "Running the application's uninstaller failed.Invalid uninstall command". Registry search showed nothing related to Web bar 2.0.5582.15558.
I have run AdwCleaner, TDSS Killer, RKill, Junk File Remover Tool apart from MBAM. Everything found a clean PC.
Still Revo Uninstaller shows the Program Icon.A google search as indicated in Revo Uninstaller didn't give anything tangible.
How to remove it from Revo Uninstaller?
I do feel that it no longer exists in reality or am I missing something?