Question about the read only attribute for folders in Windows 7.
I was trying to play warcraft III on battle.net and I got the error that the game couldn't patch the files because it couldn't write to the hdd. I then noticed that all my folders including program files were set to read only like in the following pic: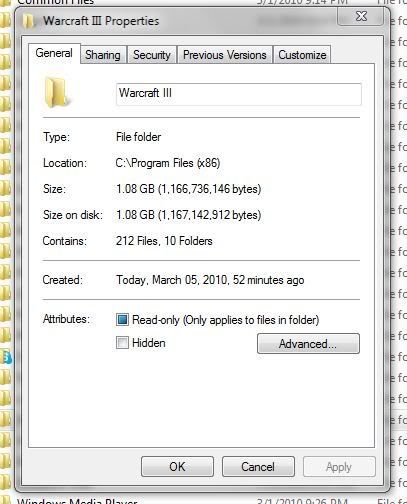 So I went to the program files folder and opened the properties, cleared the checkbox and hit apply (I'm used to previous versions of windows where read only was different). I told it to apply the setting to all the subfolders and files. A progress bar came up and it did its thing. After this I checked and all the subfolders still had the read only box checked in the same manner as the picture above, but all the files within did not (Is this how it is by default?). This did not fix the problem with patching wc3 though.
My question is: In unchecking the read only box and hitting apply, did that actually modify any of the attributes within the program files folder?
After realizing why the folders are set up this way and figuring out the correct way to fix the problem by setting the user privileges I'd rather not modify this setting.
EDIT: Judging by folders I didn't modify, all folders on my c: drive are [o] read-only and all subfiles are not. Therefore I believe that in doing what I did no changes were made to the program files or its sub-folders/files. Kinda misleading when there's a progress bar that takes a couple minutes to do nothing but fill up for show lol. Amirite?