I doubt in that since Windows built-in firewall creates rules with a very broad range - in case to avoid any conflicts by user side.
For example, you have installed torrent software (uTorrent), in uTorrent settings you have set "port used for incoming connections" eg. 43210 port (or other random port). But Windows Firewall rule looks like this (screen shot)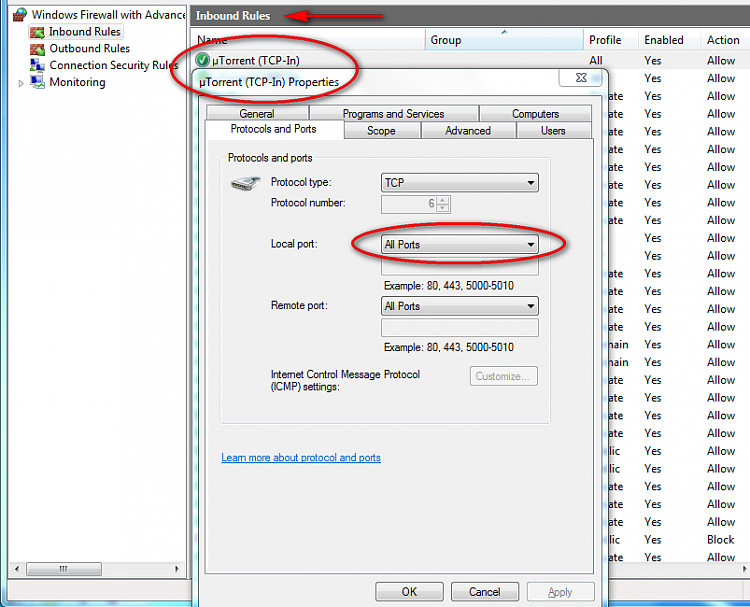 - it opens All Ports.

So Windows Firewall opens full port range for applications even if in using is only one port for security reasons.
Of course you can (you should) manually edit this settings, but you should do this for all application (if you know what port each application using).. it's a lot of work because by default Windows Firewall set up that and don't ask you about it.
For instance in case of other software firewall Look 'n' Stop it will be in that order:
1. You installing uTorrent
2. You starting uTorrent application [FW ask you about Internet connection by this application, you can allow/block this event with "remember my decision" box)
3. Now you configure uTorrent (set up port 43210 for incoming connections in uTorrent)
4. You try to download a file using uTorrent - uTorrent shows you yellow flag
5. You look at Firewall (Look 'n' Stop) logs tab and you see that connection on port 43210 are blocked by firewall
6. So... you have to create rule where your computer act as server and where you allow for incoming/outgoing connections on port 43210 on your machine (screen - please note that in this case port used was 64392:
http://www.wilderssecurity.com/attac...1&d=1271255989
).
7. For security reasons you can also select application for this rule - so when uTorrent will be disabled this rule will be also disabled, but when you start uTorrent application rule will be enabled until you close uTorrent.
As you can see the 3rd party software firewall rule based like Look 'n' Stop gives you much more control and security. Of course there are other software firewalls on the market, called "application based firewalls" (they are much more easier for novice users or users they are not much know about networking) and all steps above are done automatically by 'inteligent' firewall, so this is up to you what kind of firewall you will chose.
HTH,
Creer