Look at the attachment...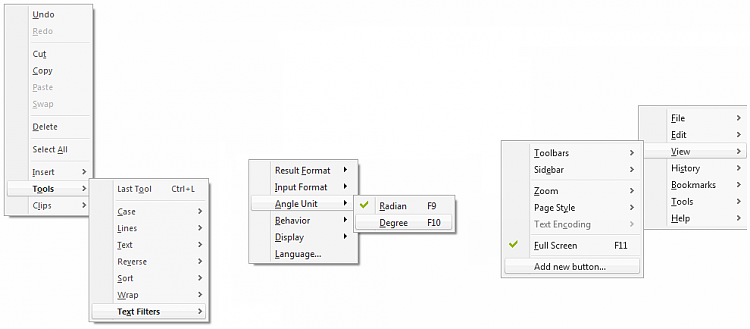 Using a visual style, I can't get all menus to look the same. We all know this location in Windows Style Builder:
Lists, Menus & Tabs > Menu > PopUpItem
It affects the first menu in the picture, but not entirely the other two, which is why they look different. Is there some location in WSB that can change the menus that aren't being affected? I don't think so. It may not be possible. It really sucks. The theme used is a modified version of the Clearscreen Sharp visual style.
Normally menus will look like the first one: bold selected text (Tools, Text Filters), #F5F5F5 background color, certain margins and padding... The second menu has no bold text (Angle Unit, Degree), a #F2F2F2 background color and different looking arrows (I updated the fossil arrows). The third menu has no bold text either, uses a #F7F7F7 background color and considerably different margins and padding. I wanted to change the font size, but it only works for the first one.
Menus like the first one are everywhere, like the second one are in the programs Tiled (map editor) and SpeedCrunch (portable lightweight calculator) and the third is from Firefox.