As Whs, I normally recommend using VirtualBox for guest virtual machines that can not be run on Microsoft Virtual PC. However, the VirtualBox Guest Additions for Windows guest systems only work for Windows 2000 and later versions. VirtualBox Guest Additions, like Virtual PC Integration Components or VMware Tools, are needed to better integrate the guest system to your host. Without Guest Additions, you only get basic functions of Win98 installed in VirtualBox, and for instance only 16 colors. The same reason, missing integration components, makes it a real PITA to run older Windows versions in Virtual PC.
I use all three major virtualization applications, each has their pros and cons. My recommendation is Microsoft Virtual PC for XP, Vista and Seven virtual machines, VirtualBox for Linux and Unix virtual machines, and VMware Player for older Windows virtual machines.
For older Windows virtual machines the best alternative (IMO) is VMware Player, which you can download for free here:
VMware Player: Run Windows 7, Chrome OS - Free Download for a Virtual PC
VMware Player has integration support also for pre Windows 2000 systems. Here for instance my Windows ME virtual machine running in VMware Player, with true 32-bit colors and fully integrated to my Windows 7 host. Works nice and fast: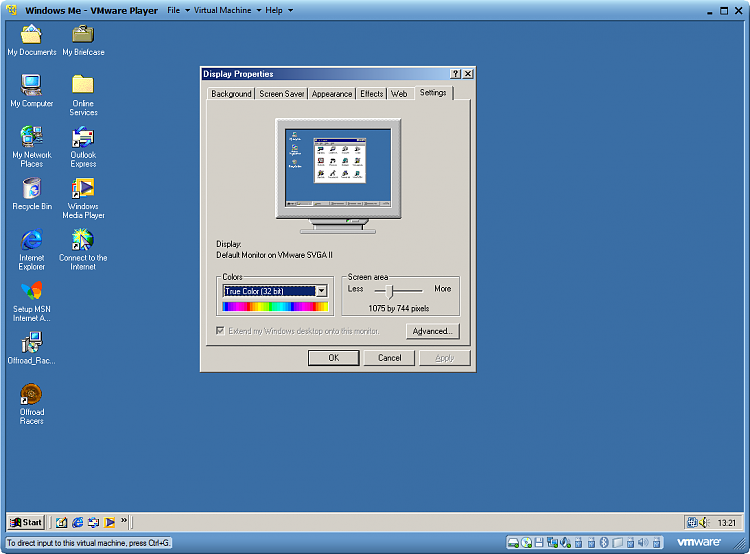 If you need any help to set up your Win98 virtual machine, do not hesitate to ask.
Kari