Having spent a while checking which of my existing applications will run under Windows 7 I have now learned enough to realise that my conclusions may have been affected by XP Mode which I believe exists only in Windows 7 Professional & Ultimate.

My current copy of Windows 7 is the Windows 7 Release Candidate which I believe is W7 Ultimate, but the PC I hope to buy after Christmas will most likely be W7 Home Premium.

Can anyone advise how I inhibit XP mode so I can test compatibility with Home Premium and/or how I can tell whether a legacy applications is running in Windows 7 Ultimate courtesy of XP mode, and therefore may not run under W7 Home Premium?

Thanks in anticipation.
Generall speaking, you dont have to disable or inhibit anything to determine whether or not a program is compatible with Windows 7.
XP Mode is only available, as you have said, to Professional and Ultimate user of Windows 7, but I suppose if you have installed Windows Virtual PC you can get it on other editions as well. XP Mode works differently to the usual "Right-Click, Properties, Compatibility" options for resolving compatibility issues. A program will only run in XP Mode if you have installed it into the XP Mode Virtual Computer by starting Windows Virtual PC on the Windows 7 start menu:
The following screenshot shows also that when a program is running in XP Mode, it looks like it is running in XP, and does not share the Windows Aero interface elements: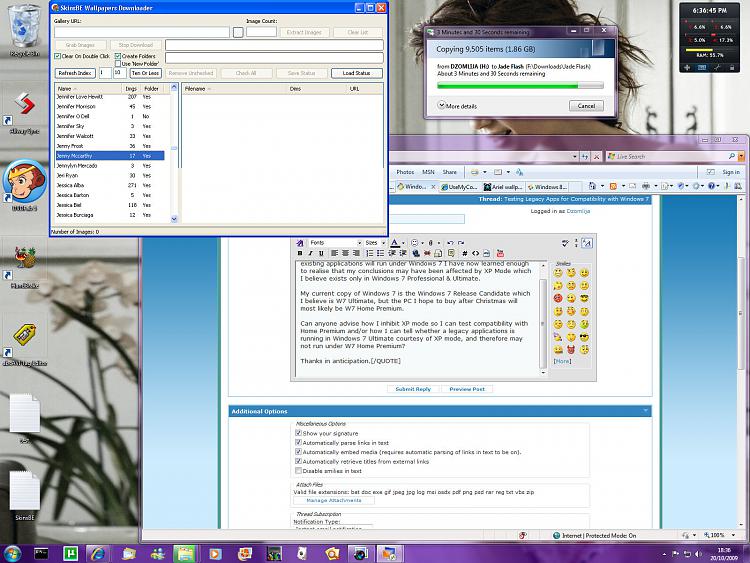 So if you want to check if a program will run on Windows 7 (Any Edition), just install it normally. In many, if not all, cases, if there are compatibility issues, Windows itself will warn you first before allowing the installation. Anything that install drivers (like Alcohol 52, UltraISO, etc), it's usually best to first check the manufactures website for an update, just in case.