Hello Louis,
Due to things that I have been told, I am starting to doubt whether it will work from a clean boot either as the thing that is preventing this script from running will still be running from a clean boot environment, making it very likely that we'll hit the same problem there.
Instead, I would like to perform this fix from the recovery environment which will guarantee that nothing will interfere with us. You will need your Windows 7 disc to hand (let me know if you don't have one!) to do this. Firstly, download the attachment and save it to the root folder of your hard drive (e.g. C:\louk1_SURT_Fix_v2.reg). Then follow this tutorial please:
How to use the Windows 7 System Recovery Environment Command Prompt
Stop reading when you get to this image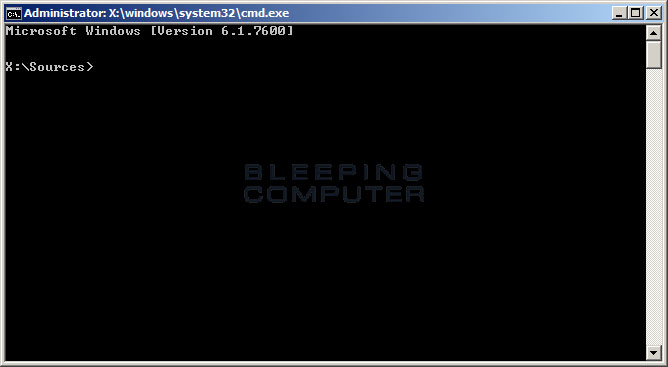 At this point, I would like you to run the following command please
regedit.exe


This will bring up the familiar regedit window. In the navigation pane on the left,
select
HKEY_LOCAL_MACHINE
by clicking on it
once
. Then click
File > Load Hive...
and select the file here:
C:\Windows\System32\config\SOFTWARE
When it asks you to name the hive, name it
SOFTWARE
<-- This is crucial, it is imperative that you name this correctly.
You should now see a new branch appear under HKEY_LOCAL_MACHINE named SOFTWARE. If you don't see this, stop and ask me.
Now click
File > Import
, then select the file that we saved earlier,
C:\louk1_SURT_Fix_v2.reg
and click
Open
. When this has finished, you will be shown a message saying:
"The keys and values contained in C:\louk1_SURT_Fix_v2.reg have been successfully added to the registry."
Then select the
SOFTWARE
branch under
HKEY_LOCAL_MACHINE
by clicking on it
once
and click
File > Unload Hive...
and accept any warnings that you're shown. The
SOFTWARE
branch should now disappear.
Now reboot your computer, booting back into Windows this time.
When Windows boots, run the SURT again please and upload the CheckSUR.persist.log. If all goes to plan, that should reduce the number of errors by about 90!
Tom