[This thread is now marked SOLVED due to an effective workaround being found that allows Windows 10 to be installed on a system with a G3258 CPU.]
This thread originally addressed the Windows 7 update KB3064209 causing Windows 7 to boot to a black screen, but it was later found that this same coding was unfortunately BUILT-IN to the final release of Windows 10, thus causing anyone with a G3258 CPU to not be able to install Windows 10.
Go to the new posts (they are listed oldest to newest here) at or near the end of this thread to see my post regarding a workaround to this problem.
Original post:
Hi all,
As the title says, Update KB3064209 (Intel microcode update) from a couple of days ago (16June2015) causes my system to fail to boot after it is installed. My Windows version is 7 Ultimate with SP1 and all updates (besides this problem one). The required prerequisites for this update are met.
This update is in the 'Optional' category but if you read the details of the update it seems to be very close to 'Critical'. (Improves the reliability of the processor and Windows may not function correctly without it, it says)
I indeed have an Intel processor, the Intel Pentium G3258 3.20GHz Haswell, sometimes called the 'Anniversary Edition' Pentium.
After I install the KB3064209 Update (I have tried installing through Windows Update and also manually downloading and installing the update) my system will not boot.
It goes through POST then comes to the Starting Windows screen for 1-2 seconds. After 1-2 seconds the screen flashes what appears to be some kind of corrupted graphics for an instant then reboots.
Going through System Restore and restoring to a time before the update causes the system to boot successfully.
Do other people have a problem with this particular update or is it just me?
Obviously, unless I hear that there is a workaround, I'm not going to install it and just hide it in Windows Update.
This is the main reason I have Windows Update set to 'Never check for updates' and I just manually check for them about once a week.
If this was set to automatic and this failure to boot suddenly popped up after a silent Windows Update install in the background , I would probably spend hours trying to find out what caused it.
An installed program suddenly corrupted? A driver problem? Corrupted Windows System files? If so, which one? SFC /scannow is fine but it's not a 'cure all'. I've run it before and it found no problems when I was having major problems and I later found a corrupted system file. It had the right name but wrong size and date. I replaced the file with one from a working Windows 7 system and my problem was fixed.
Any info about others having this particular update causing problems for them would be appreciated.
2 screenshots: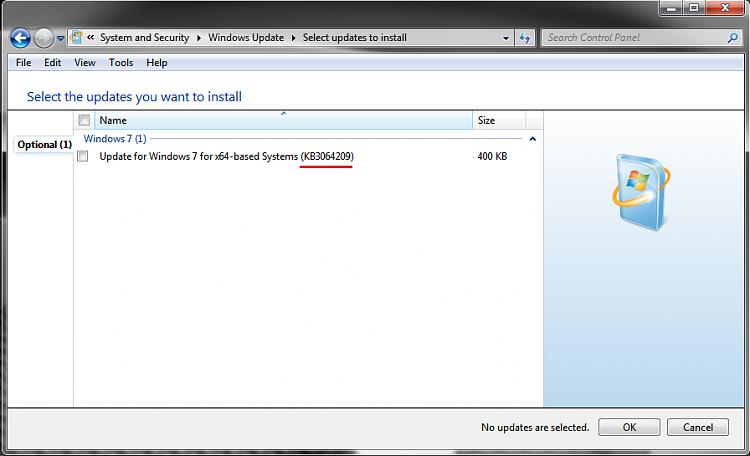 .
EDIT:
As I just posted at the end of this thread, WINDOWS 10 WILL NOT INSTALL ON A SYSTEM WITH A PENTIUM G3258 CPU!! (In almost every case) Neither trying the install through 'updates' nor trying the install with an ISO image will work.
The installation fails with this error:
"We couldn't install Windows 10
0xC1900101 - 0x20017
The installation failed in the SAFE_OS phase with an error during boot operations"
As I predicted, this issue has come back to haunt us with a vengeance after most of us here agreed that simply not installing the Update 3064209 was a 'fix' to it causing the headache in Windows 7.
In Windows 10, this is not an 'update' that you can elect to not install, IT'S INTERNAL TO THE WINDOWS 10 CODE!
Microsoft blames Intel, Intel blames Microsoft, and just a very, very few motherboard companies (1 that I know of; Asus) have issued a BIOS update which supposedly fixes this.
A huge amount of discussion in other forums offers two possible workarounds:
1) Removing ALL overclocking of the CPU. (a few people have said this allows a successful Windows 10 install)
OR
2) (And this is just ridiculously unacceptable), going into the UEFI BIOS and disabling one of the cores of the CPU. However, the reports are that 100% of the time, this allows a successful installation of Windows 10.
99% of Pentium G3258 owners who want to install Windows 10, we are screwed.
A lot of reports are that a couple of the Windows 10 Preview versions did not have this problem, but the final 29July2015 release does.
There is a large number of motherboard owners who have somehow gotten the mistaken impression that you're golden if you have a Z series motherboard. Mine is a Z87 and the problem is very real with it. So don't waste your money thinking you can just buy a new Z87/Z97/Z99 and the problem will magically go away, it won't.
Note: I will burn in hell before I disable a CPU core to allow some bull**** 'fix' to a Microsoft/Intel complete and absolute debacle.
I'll guess I'll remain a faithful Win 7 x64 user for some time to come, it looks like.
.